A Year in Review: Defining Moments in 2022
2022 was another trailblazing year for iRelaunch. We look back on 2022's milestone moments through our trending hashtags and topics. We hope you enjoy our end of the year blog as much as we enjoyed reminiscing about and writing it!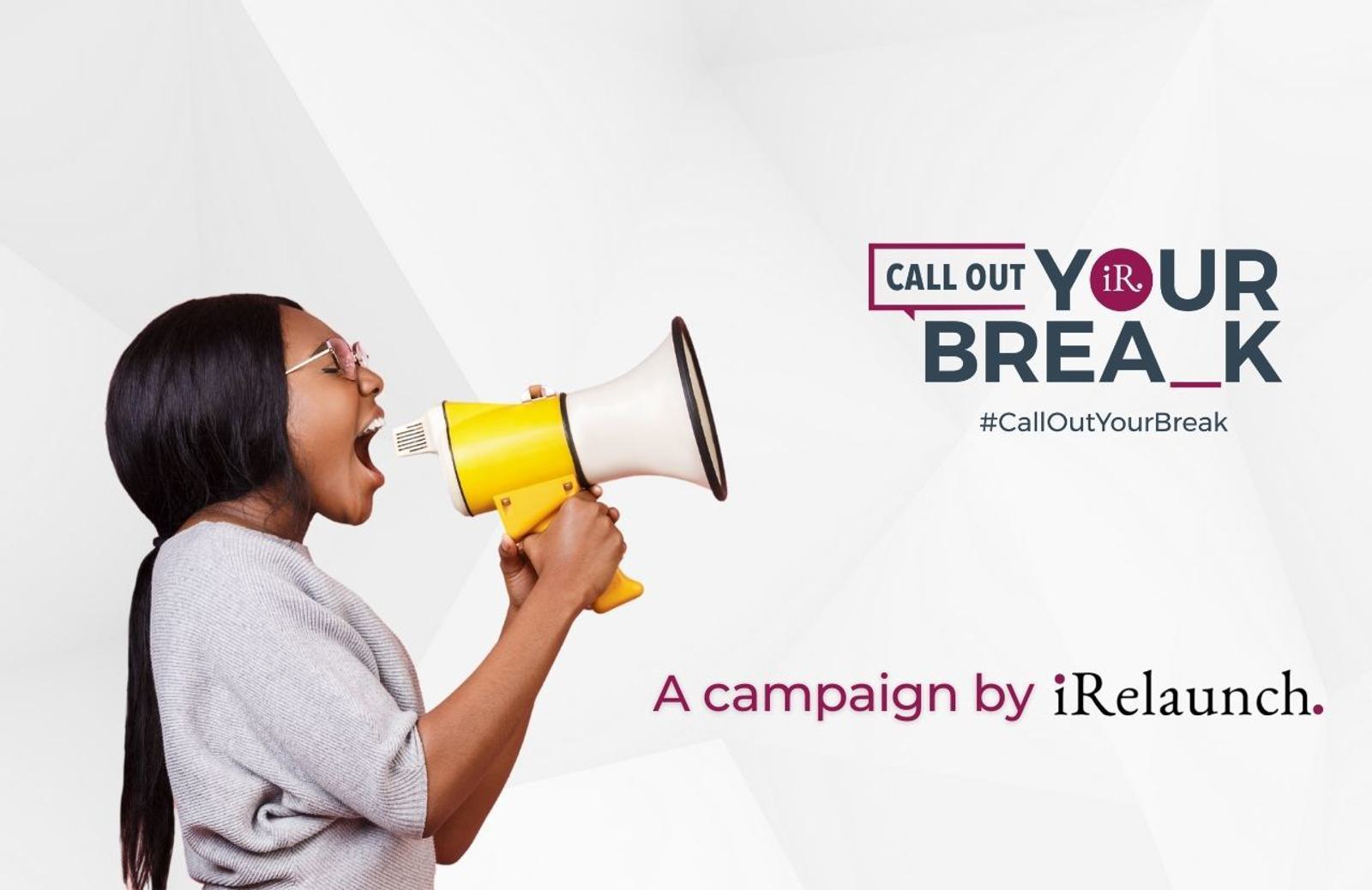 Milestone #1
#CallOutYourBreak
2022 began with a pivotal moment. In 2021, iRelaunch CEO and Co-founder Carol Fishman Cohen wrote about the "institutional shift" required to normalize career breaks in her HBR article "Companies Should Do More to Normalize Career Breaks."
On March 1, 2022, a milestone step in the "institutional shift" happened when LinkedIn announced their new "Career Break" feature for profile building. We saw this as a validation of the career break as part of the career path, as recognized by LinkedIn, the arbiter of career path profiling. Carol elaborated on this in her 2022 HBR article "A New Way to Explain the Pause in Your Career."

In an exclusive interview with Carol Fishman Cohen for our 3,2,1 iRelaunch podcast, Bef Ayenew, (now Senior) Director of Engineering at LinkedIn where he leads the Search and Profile engineering teams, explained how the new feature "allows members to add a career break on the profile" and encourages members to "add some details, explain what you did, maybe even what skills you've picked up during that time, to show how you've made yourself even more qualified in some ways."
Watching the institutional shift to normalizing career breaks happen in real time has been especially rewarding. The support from employers, relaunchers and media has been invigorating.
Pro Tip: Get the #calloutyourbreak frame for your LinkedIn profile here!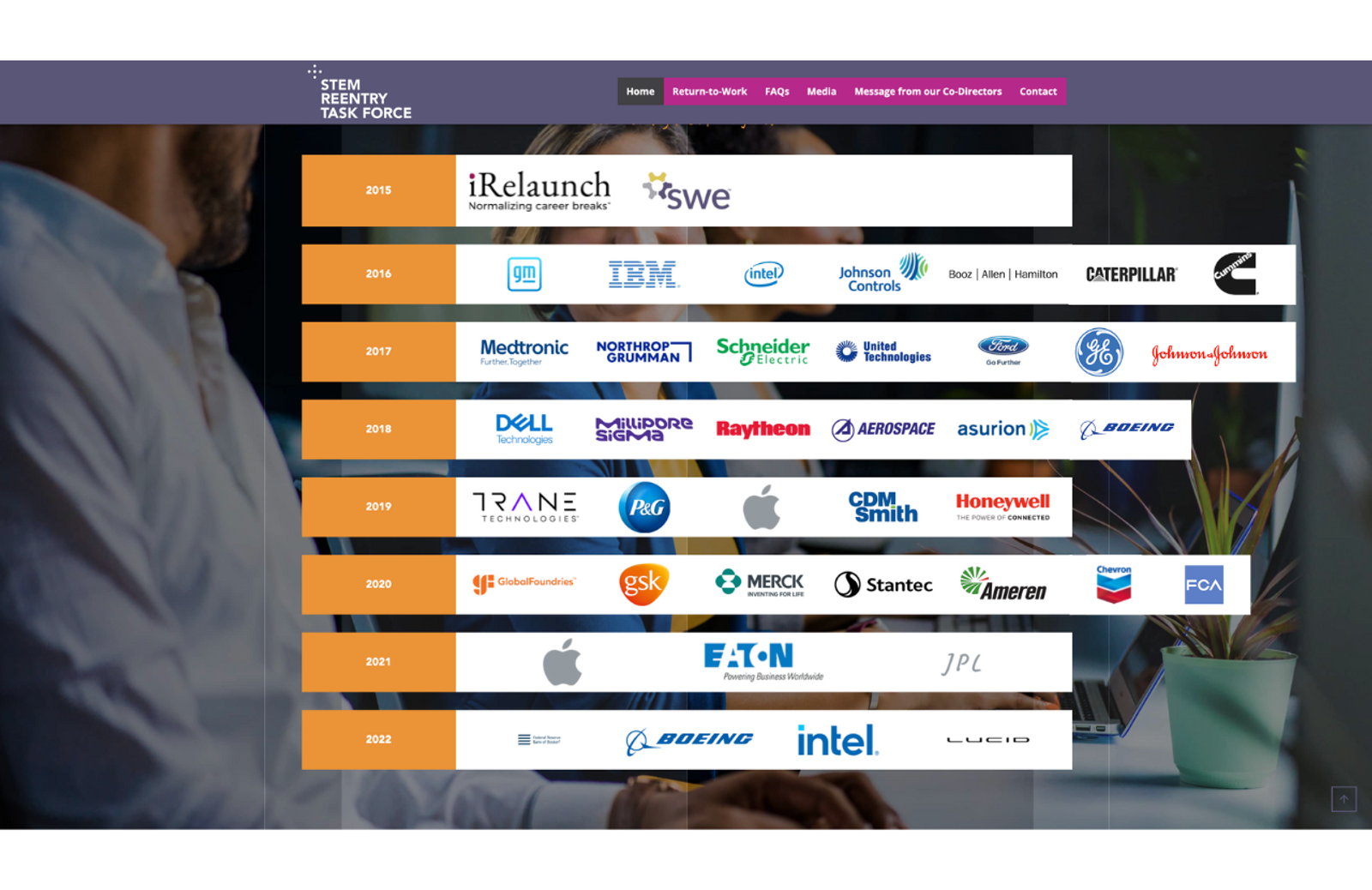 Milestone #2
#STEMReentryTaskForce
The STEM Reentry Task Force, co-led by the Society of Women Engineers (SWE) and iRelaunch, continued its expansion. Seven years, 36 employer members and 31 launched employer programs later, SWE and iRelaunch are proud to report that nearly 1000 relaunching professionals have participated in Task Force-member career reentry programs! Conversion rates (percentage of relaunchers hired after completing a career reentry program) are averaging over 85%. The inspiring stories of the technical relaunchers featured in this SWE Magazine article illustrate the initiative's success. 2022 also marked the addition of four new partners including The Federal Reserve Bank of Boston, Intel, Boeing and Lucid Motors.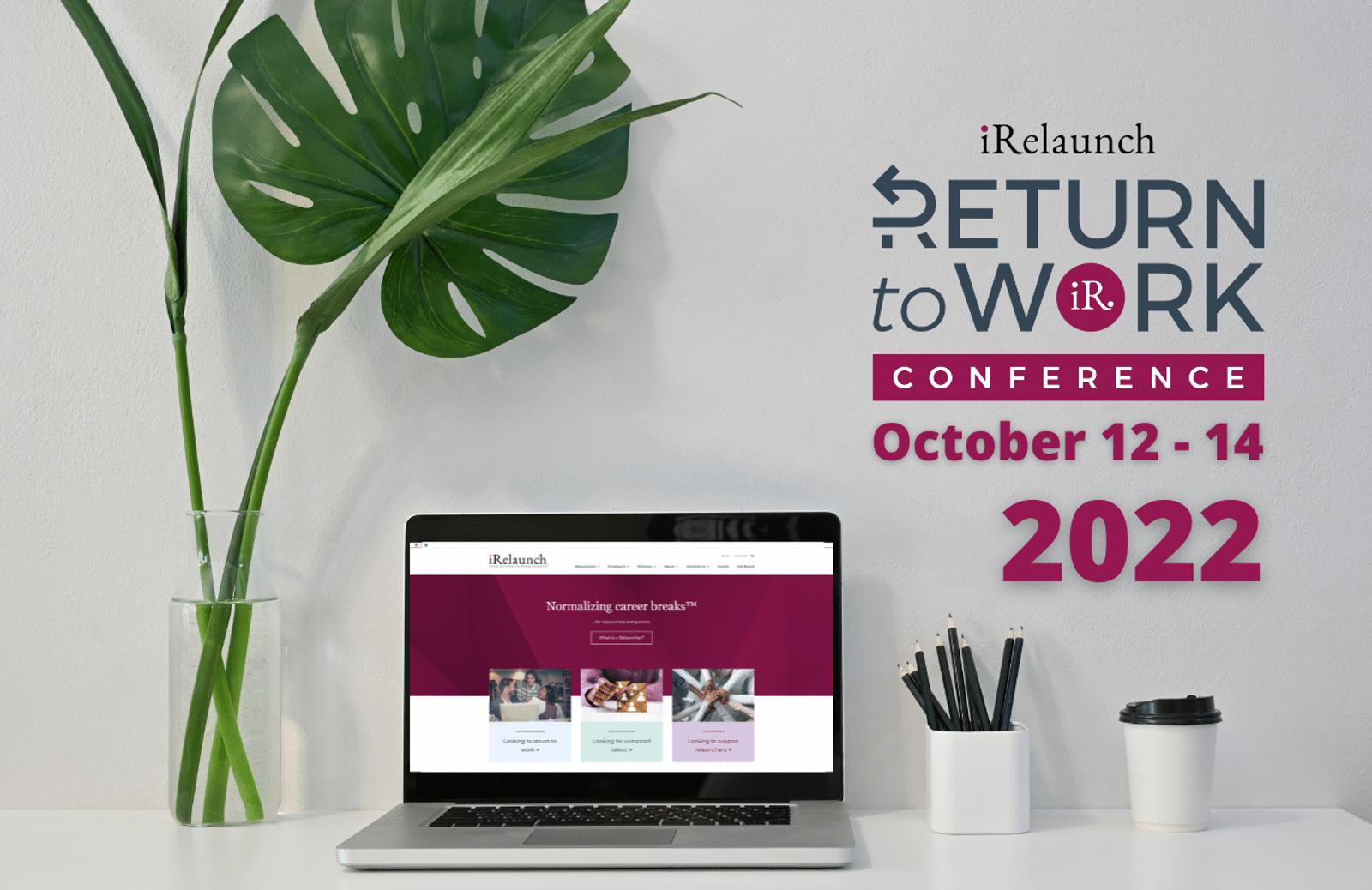 Milestone #3
#2022RTWConference
In October, we hosted our 32nd iRelaunch Return to Work Conference, our most well-attended conference ever, drawing record numbers of relauncher registrants and employer sponsors.
Our two 2022 virtual conferences connected nearly 2,500 relaunchers with 34 visionary organizations recruiting for their career reentry programs and job opportunities. To accommodate time zones outside US/Canada, we debuted dedicated International Recruiting Hours as part of the virtual career fair on Day 3 of our conference. Stay tuned for more exciting global events in 2023 thanks to the growing worldwide demand for relaunchers.
The interview with State of Utah Lieutenant Governor Deidre Henderson, a relauncher herself who spearheaded the launch of Utah's groundbreaking Return Utah career reentry program and relauncher Shay Baker, Program Manager and member of the inaugural cohort of Return Utah, at our 31st iRelaunch Return to Work Conference was a stand out moment for all of us.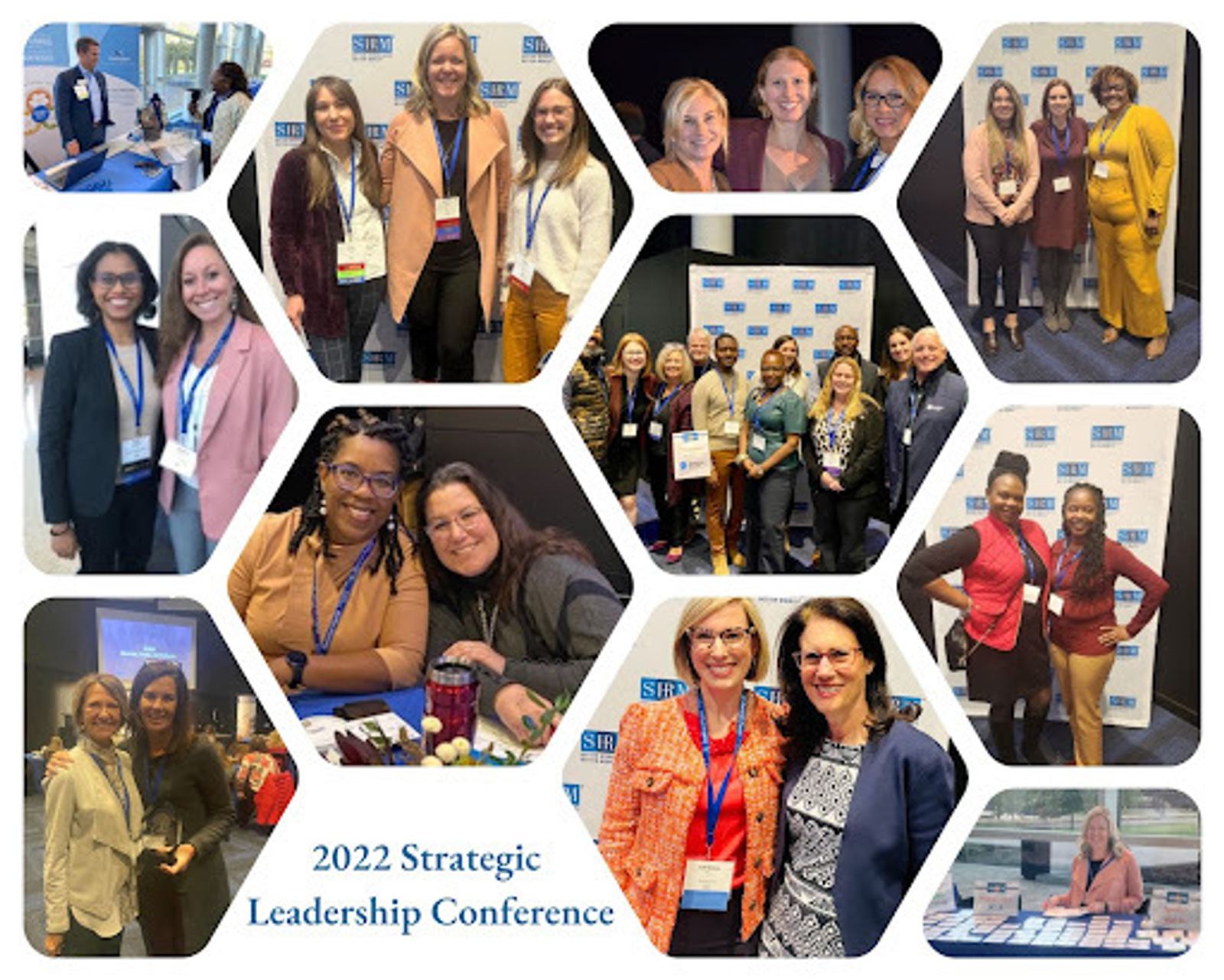 Milestone #4
#CommunityPartners
We continued to strengthen our partnerships with our community partners. Together with Mocha Moms, we hosted another popular employer showcase. With Ellevate Network, we discussed how employer career reentry programs changed during the Pandemic. With Power to Fly, as part of the Diversity Reboot Series, we discussed opportunities for those relaunching their careers in India and how to reflect, reimagine and relaunch your career into a new field.

With in-person events returning gradually, we keynoted, led panels and hosted special events at the AWS Women's Leadership Luncheon in Washington, D.C., the SHRM Strategic Leadership Conference in Richmond, VA and the SWE WE22 Conference in Houston.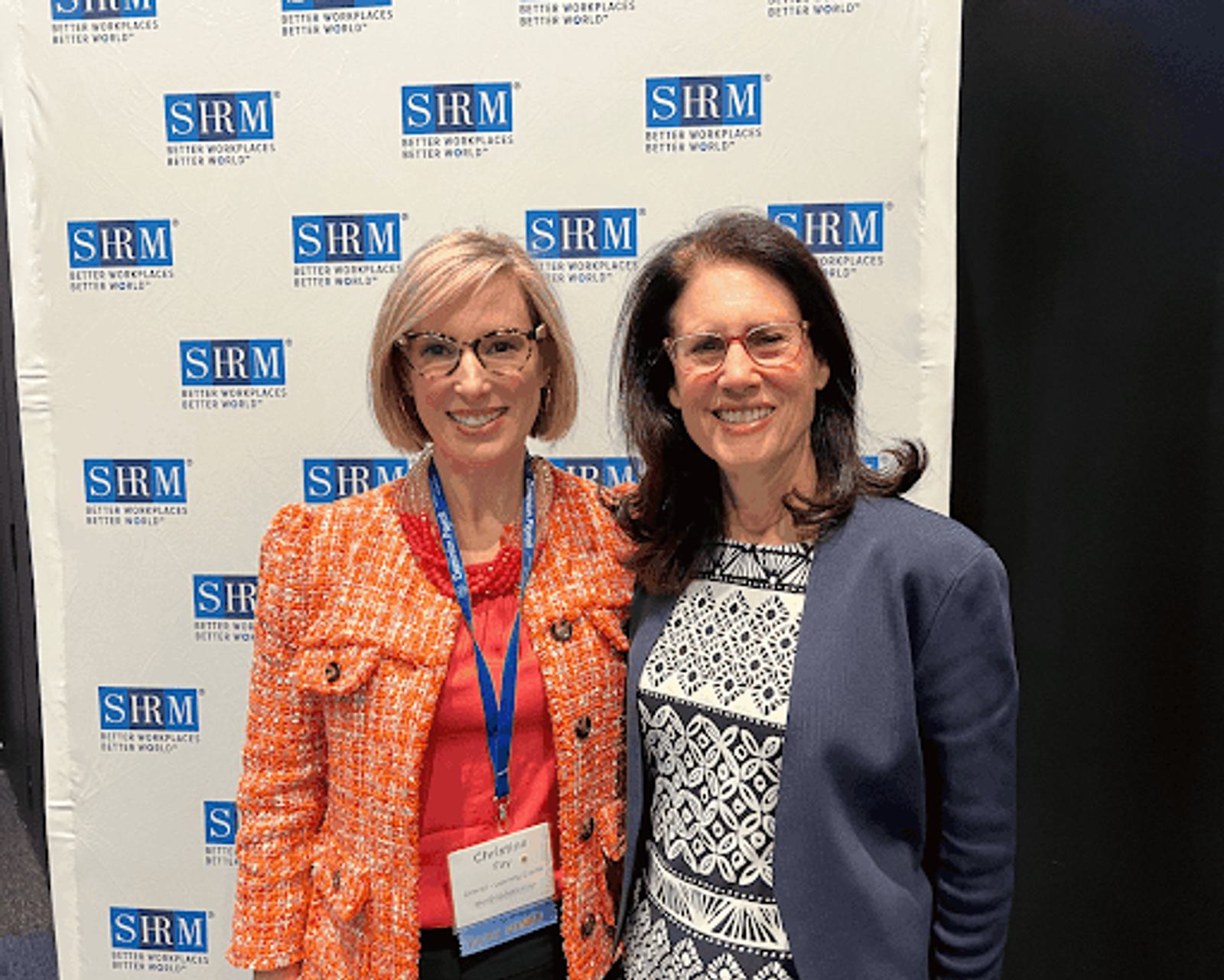 Carol Fishman Cohen at the Richmond SHRM Strategic Leadership Conference with Richmond SHRM Board of Directors member (and relauncher!) Christine Fay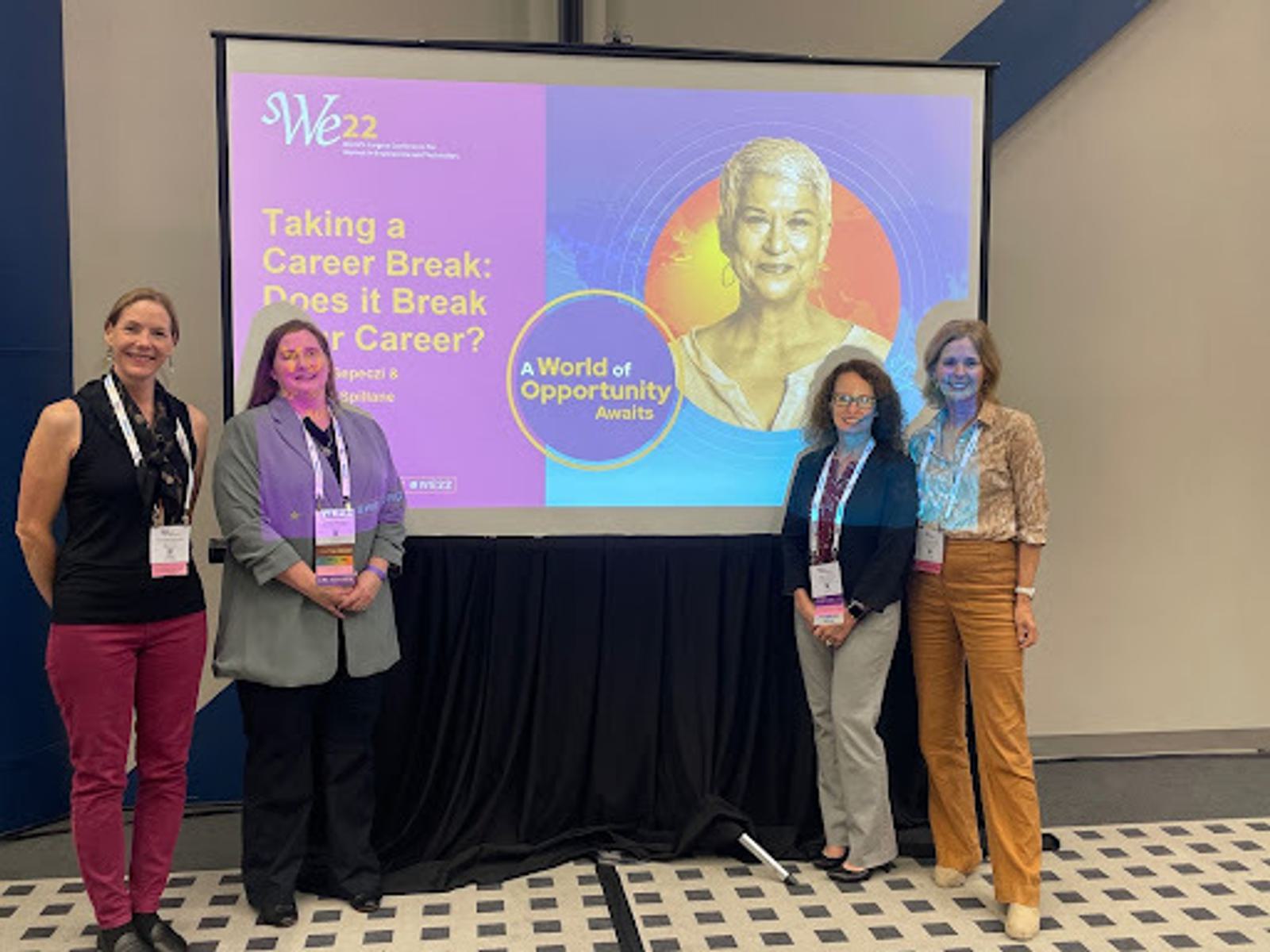 Jennifer Howland and Elizabeth Gish, speakers at the #WE22 conference, pictured with Northrop Grumman iReturn alumni relaunchers and WE22 presenters Sue Spillane and Sheri Sepeczi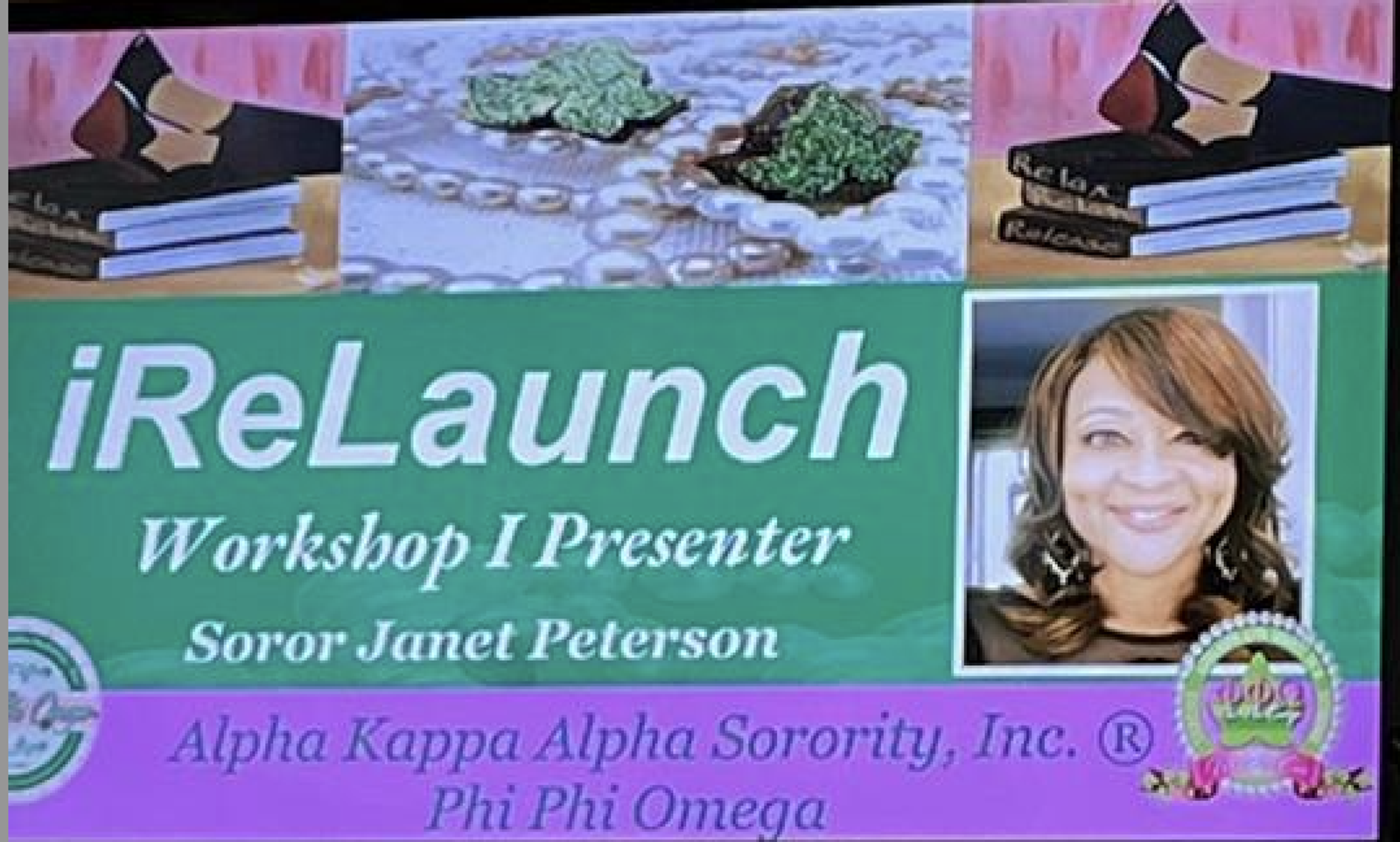 Milestone #5
#DiversityMatters
We continued our focus on bringing more diversity to our relauncher community. iRelaunch Diversity Lead, Janet Peterson was a workshop presenter to over 100 members at her local Phi Phi Omega Chapter in Alpharetta, GA. Members of this chapter were able to learn about how to relaunch their careers and learn about our October Return to Work Conference. In 2023, Janet will initiate a job networking Sister Circle which will inform members of returnship opportunities and how to utilize the iRelaunch Roadmap for career reentry.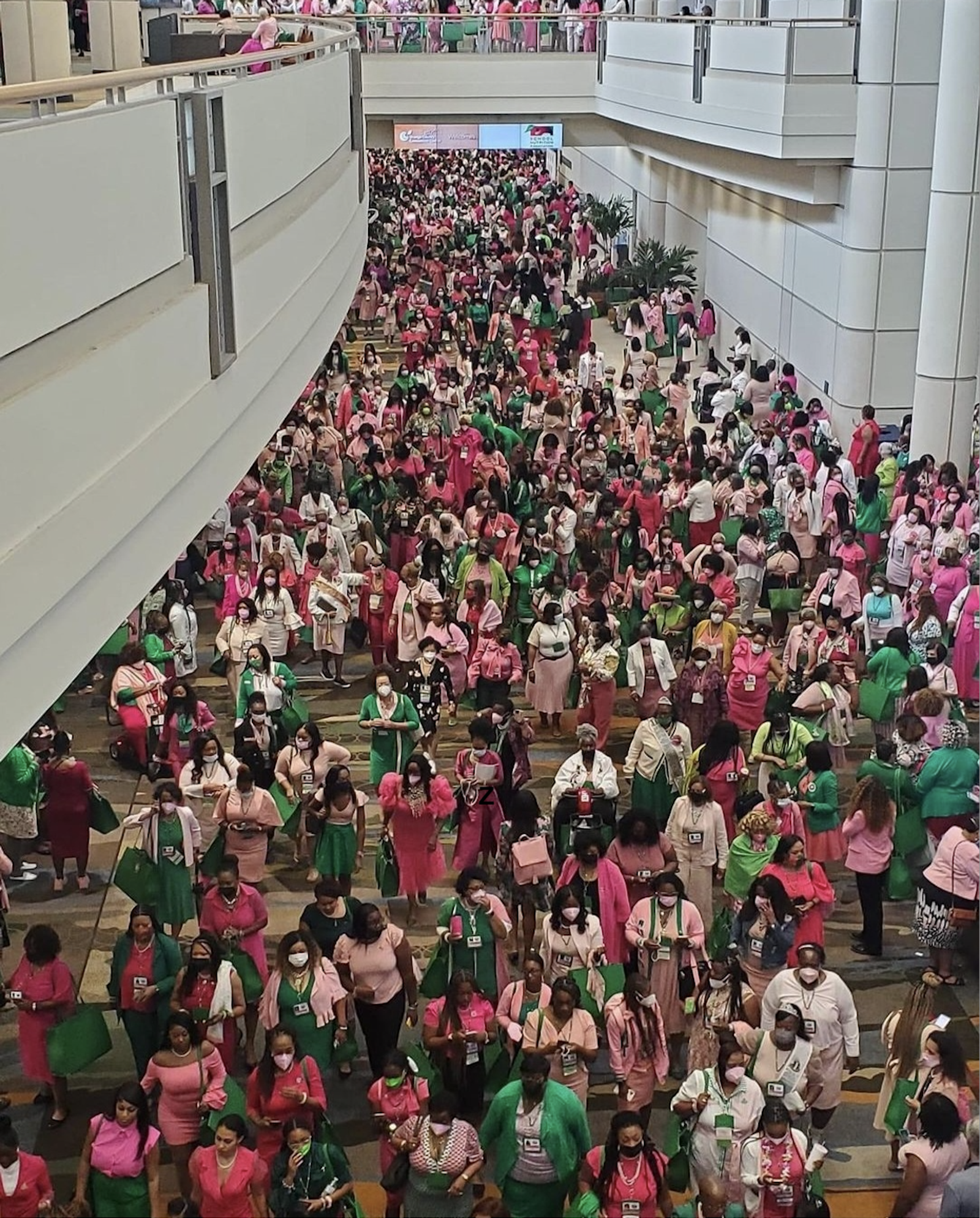 A glimpse of the Alpha Kappa Alpha Sorority, Incorporated's 70th Boule
iRelaunch was proud to be an Emerald level sponsor for the Alpha Kappa Alpha Sorority, Incorporated's 70th Boule. There were more than 11,000+ attendees at these events and our booth was buzzing with questions relaunching! Members were able to register and join our job board.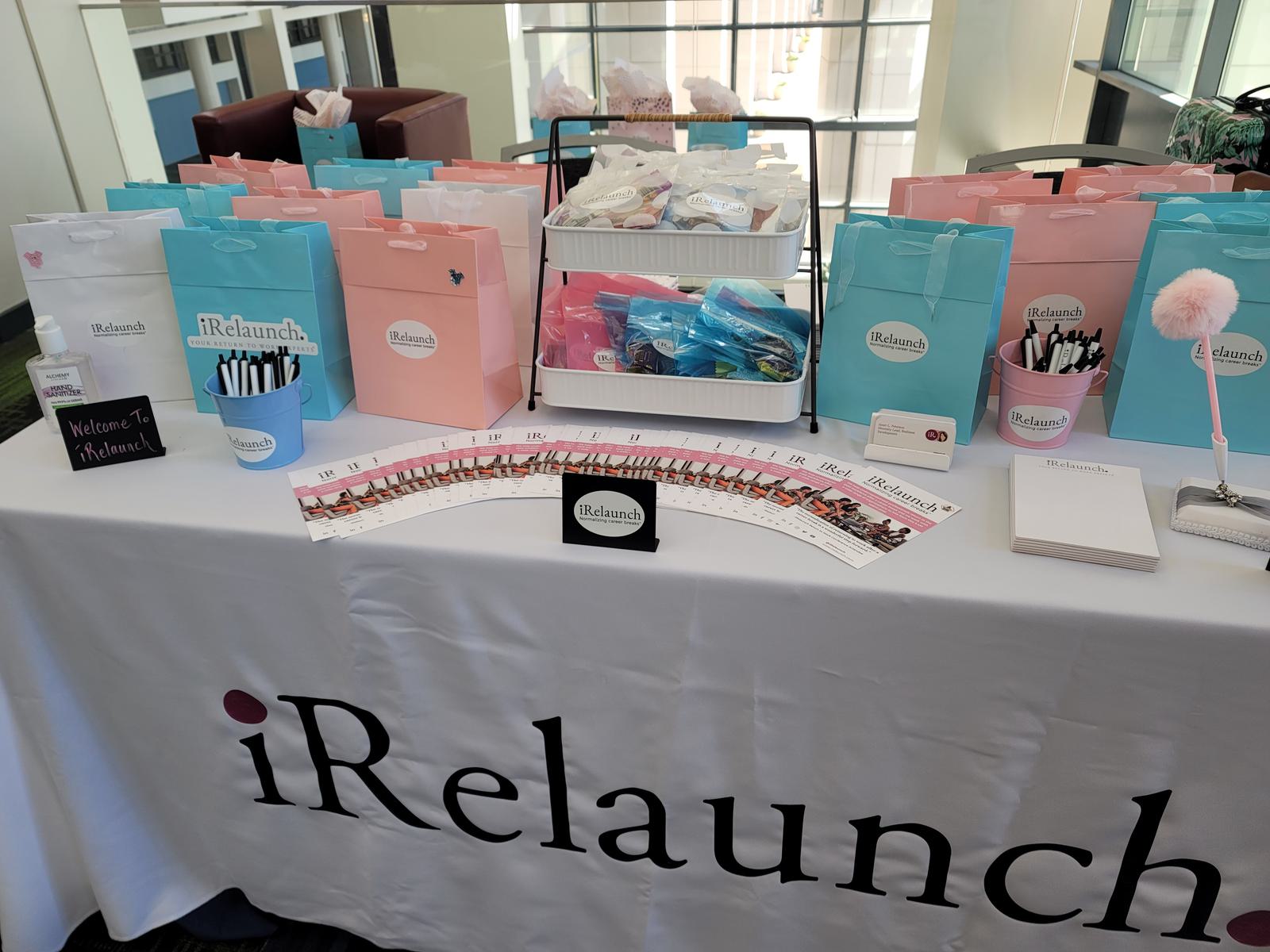 iRelaunch Exhibit Table at Jack and Jill Mother's Work Conference
Janet hosted the iRelaunch exhibit table at the Southeastern Region of Jack and Jill Mother's Work Conference in Savannah, GA. There were 560 Moms from GA, FL, AL, TN, MS in attendance who participated in workshops and planning sessions to build out their 2023 Programming Agenda.
Learn more about Jack and Jill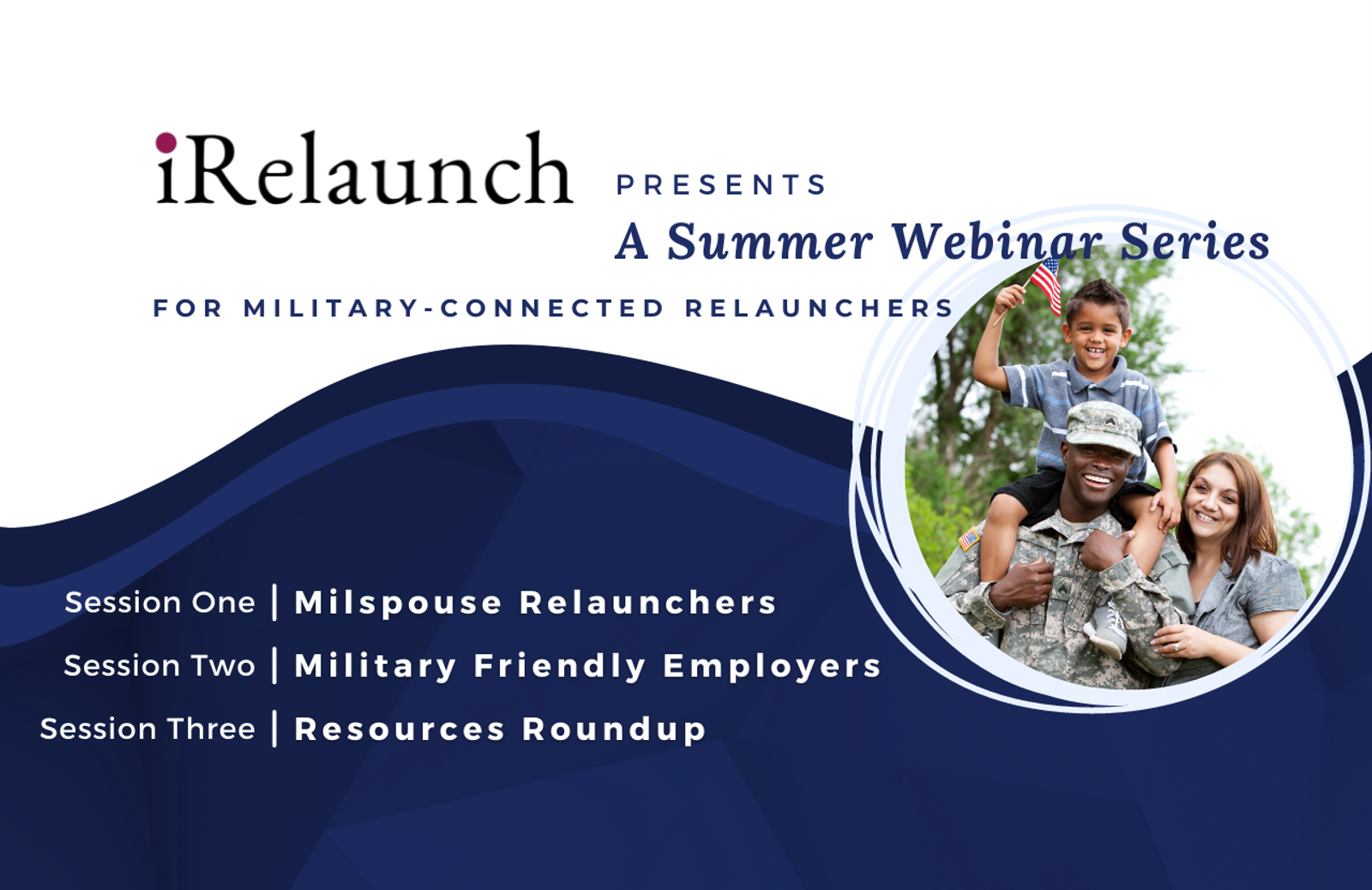 Summer Webinar Series for the Military-Connected Community
For military-connected relaunchers, we conducted a three-part informational summer series, attracting 100+ attendees from six countries. The first session featured three military spouse relaunchers, the second featured four military-friendly employer representatives and the third featured a panel of six representatives from resource organizations moderated by military spouse relauncher Radha Adams.
The 2022 iRelaunch Summer Series for Military-Connected Relaunchers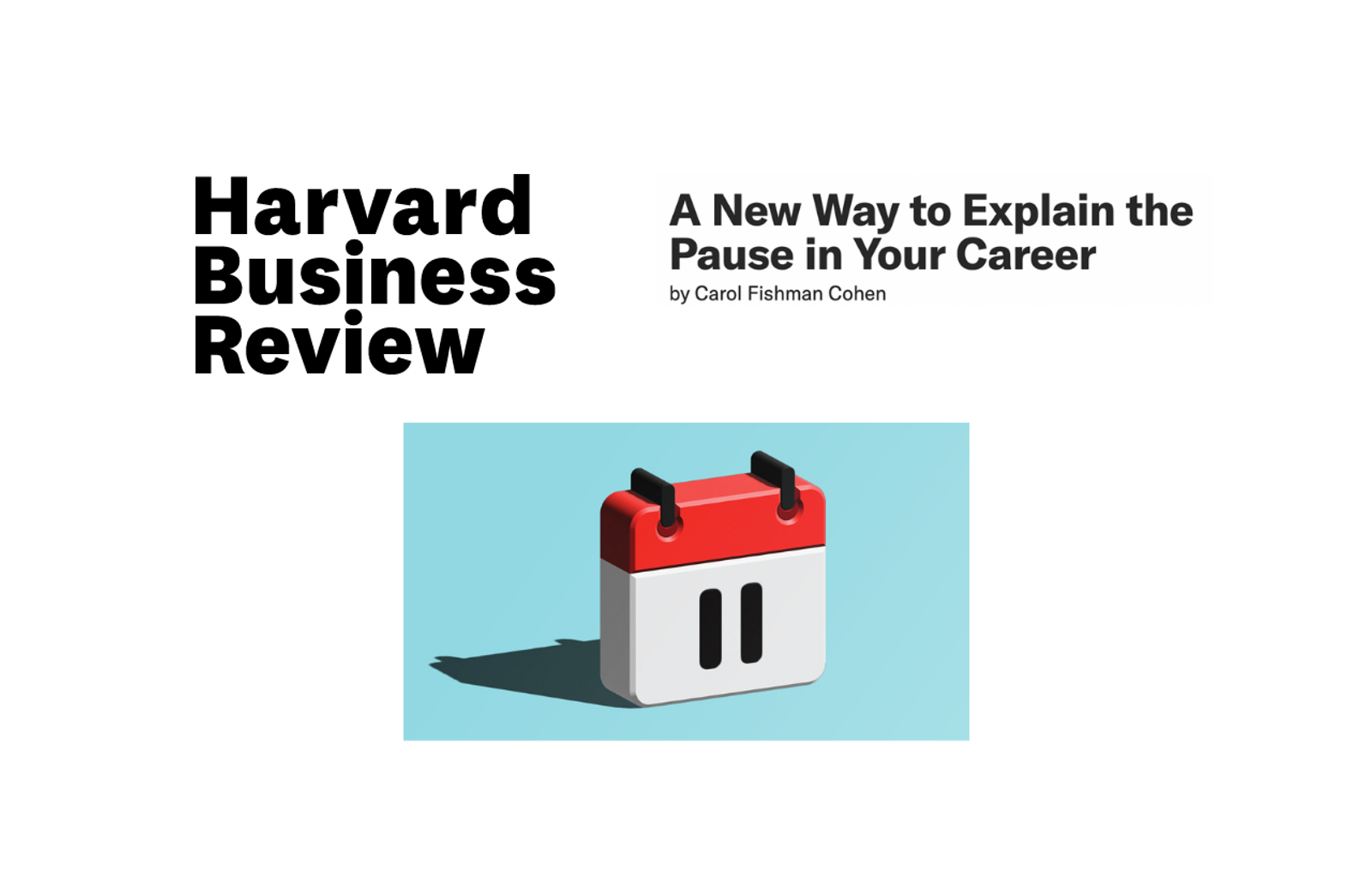 Milestone #6
#InThePress
Consistent with our role as industry pioneers, iRelaunch continues to drive and influence the direction and expansion of career reentry programs and programming. In 2022, we were featured in numerous press articles. Some of the standouts include this article and this article from SHRM, this story from USA Today, Carol Fishman Cohen's guest interview on David Meltzer's Office Hours show and her timely HBR article "A New Way to Explain the Pause in your Career" mentioned in Milestone #1.

Carol Fishman Cohen was interviewed on The Wall Street Journal's As We Work podcast "Taking a Break without Breaking Your Career!"
Celebrating #WomensEqualityDay2022 with the Laddrr team ringing the closing bell at the NYSE was a memorable moment!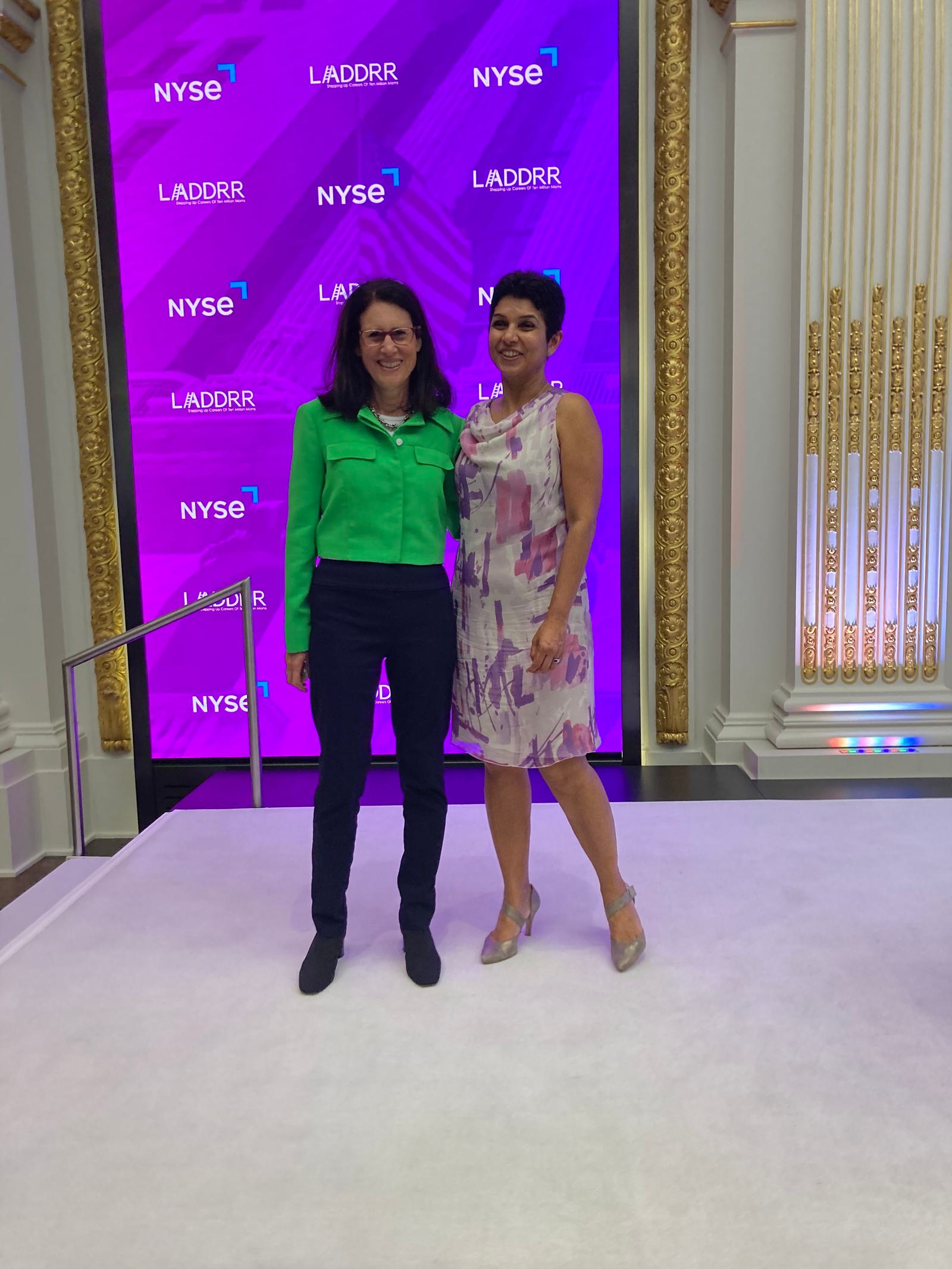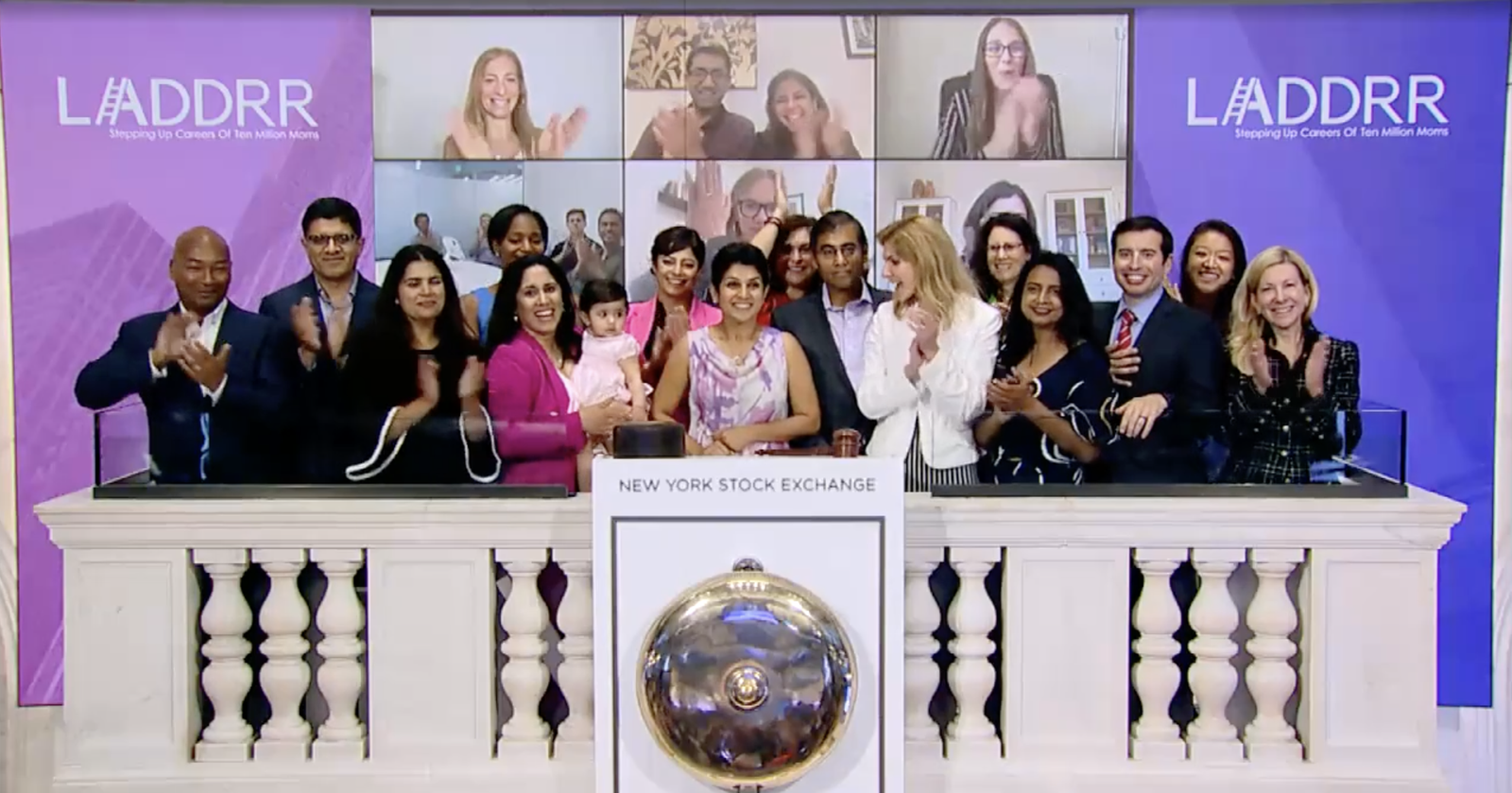 Milestone #7
#TeamNews
We doubled the size of our team during the pandemic, continued expanding internationally and this fall, we celebrated at our first in-person team events in nearly three years. Our U.S.-based team was together for two days of fun and bonding in Boston, MA and our India-based team members did the same in Jaipur! We can't wait to meet in January for our Annual Strategy Retreat including team members from U.S., India and U.K.

Huge thanks to YOU, our relaunchers, employers and community partners. We are more dedicated than ever to normalizing career breaks and enabling as many successful relaunches as possible, benefiting returning professionals and the employers hiring them. Everyone wins! That's why we love our work and our mission.

With gratitude,