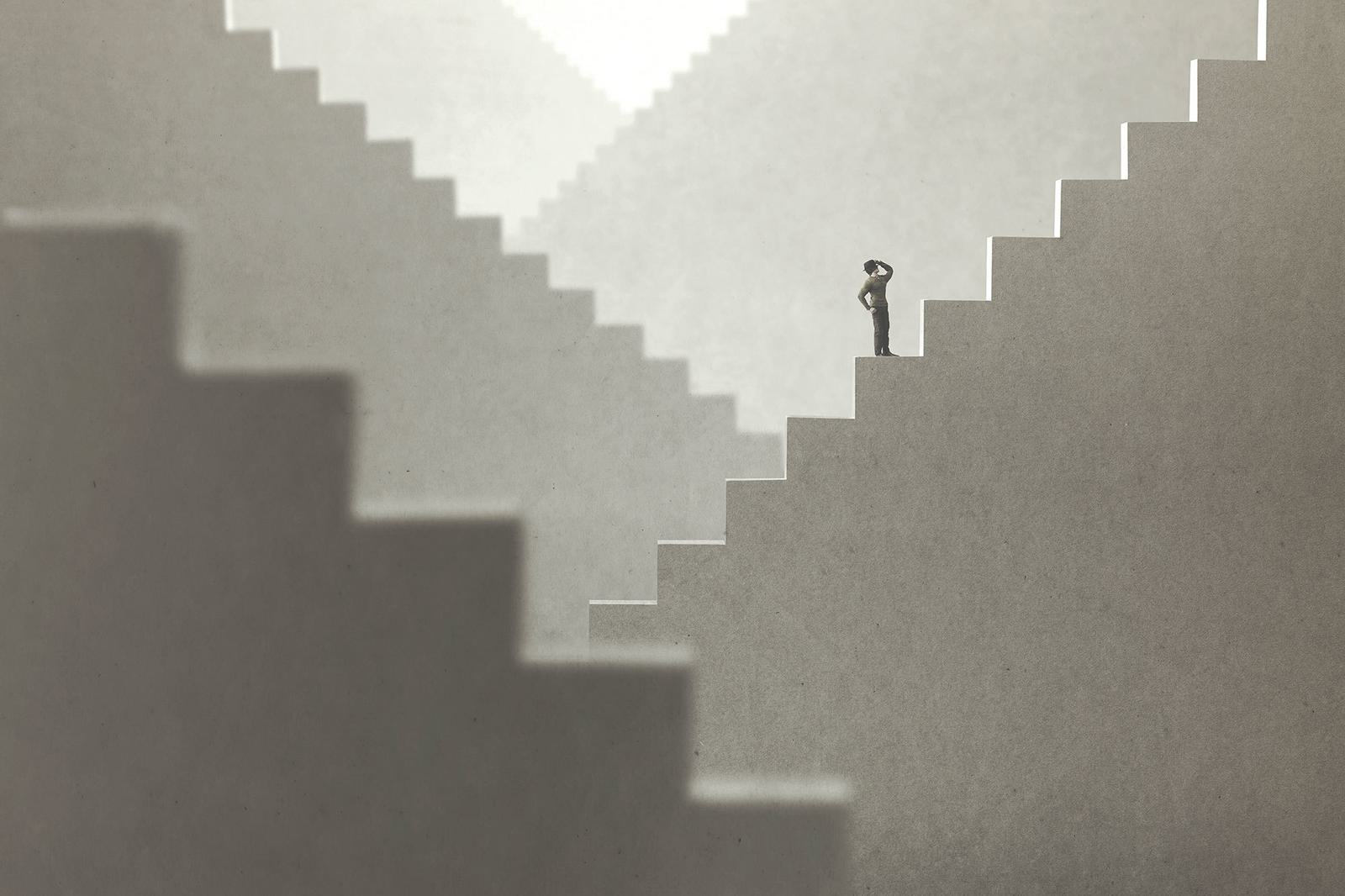 The iRelaunch Return to Work Roadmap
Your step-by-step plan for returning to a rewarding career.
Curated guidance and advice from internationally respected experts
Carol Fishman Cohen, iRelaunch CEO and Co-founder literally "wrote the book" on the career reentry. Carol and the iRelaunch team are internationally known experts in returning to work after a career break. Plus, iRelaunch updates the Roadmap in real-time so you always have the most up to date strategies at your fingertips.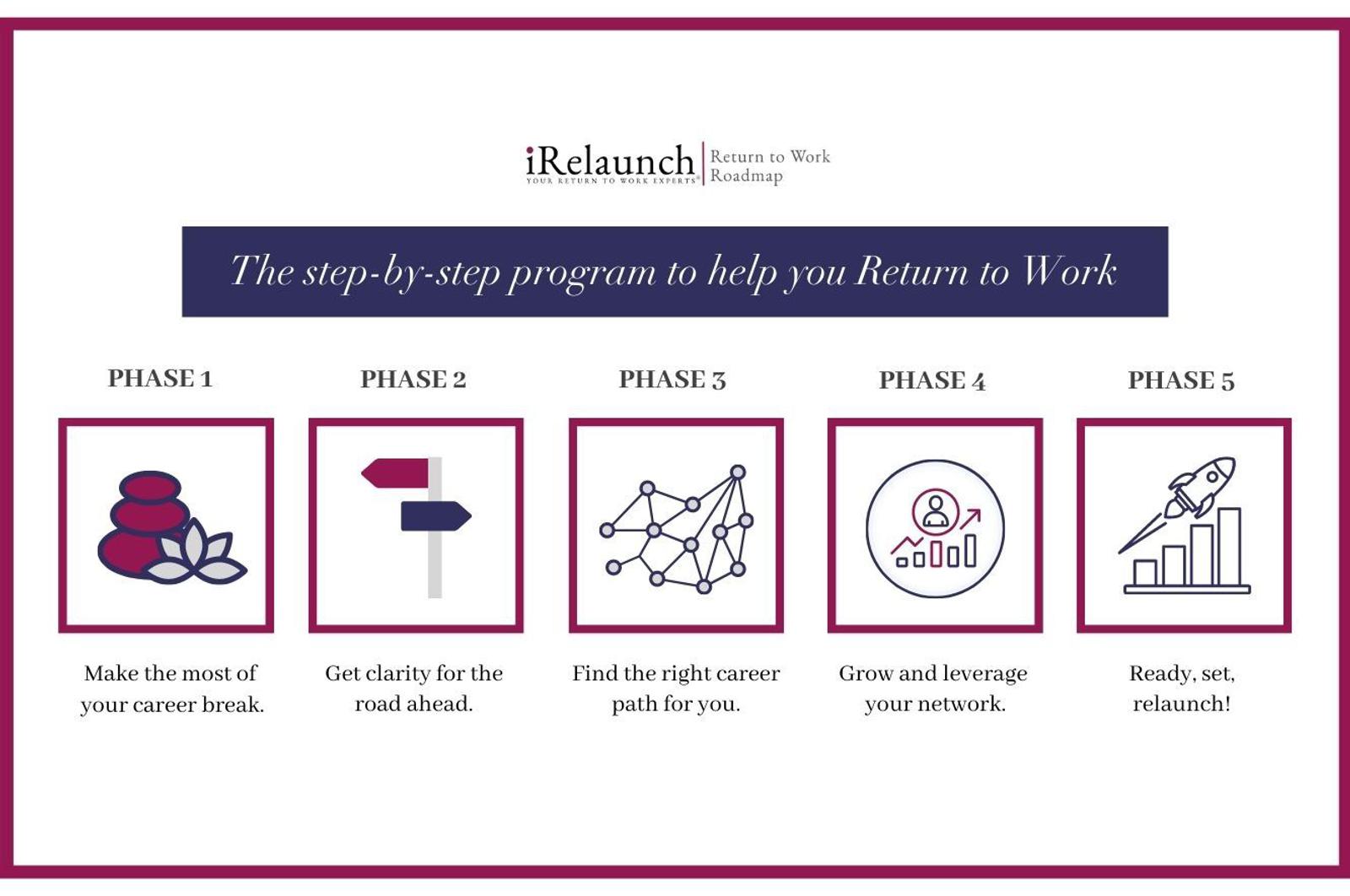 A structured and results-oriented plan, backed by the experience of thousands before you
iRelaunch has worked with thousands of "relaunchers" on their road to career reentry. We've identified the shortcuts, exposed the roadblocks, and mapped out the most efficient and successful approach.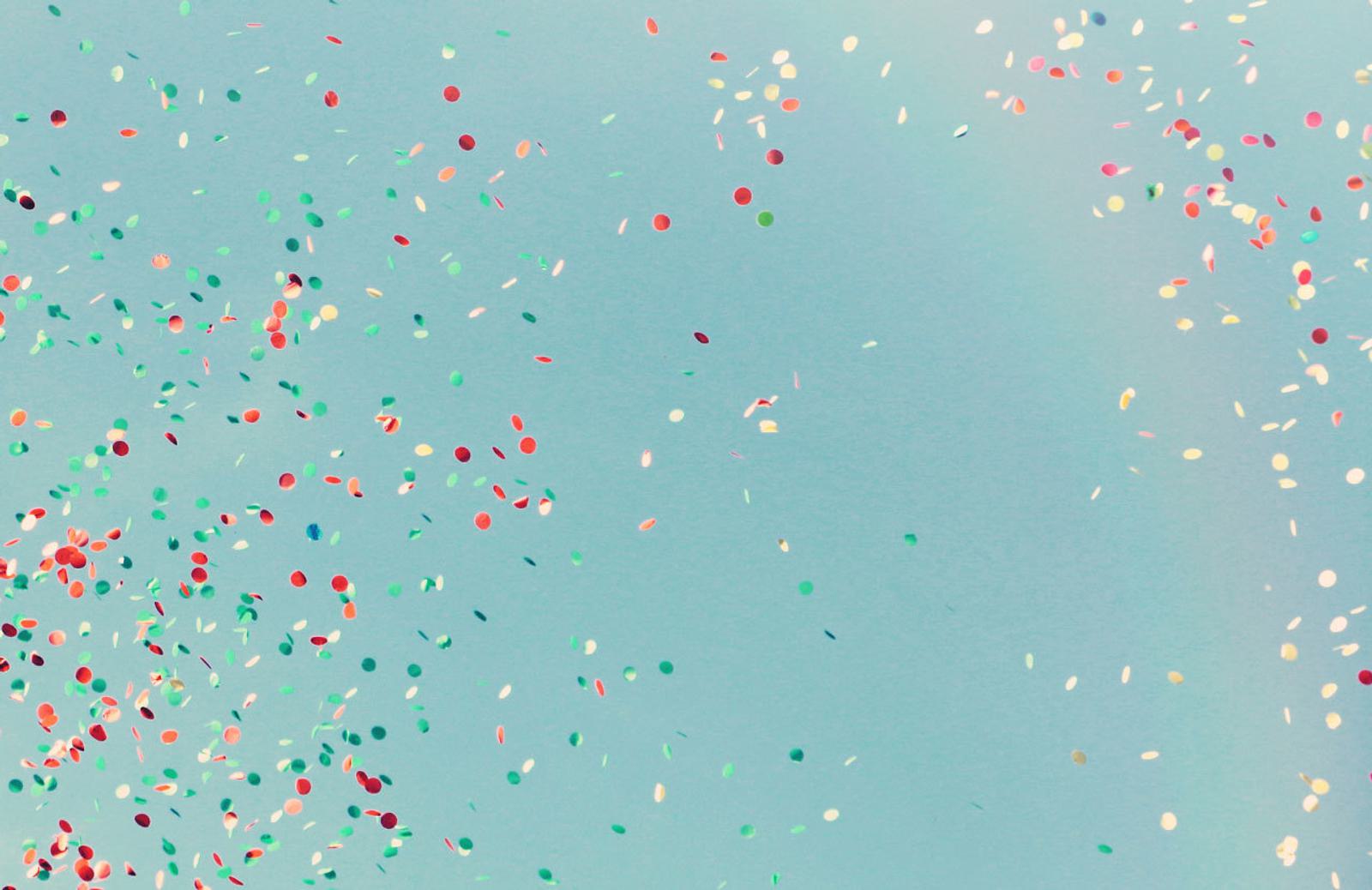 Proven techniques and results
Everything in the Return to Work Roadmap is based on our extensive experience and results directly with relaunchers in many fields, after career breaks as long as over 20 years. We've got hundreds of success stories to prove it! Assessments, exercises, podcasts, videos, articles and worksheets are the results of our research and coaching work with relaunchers just like you. And, since it's an online course, you can start anytime and move at your own pace.
I am LOVING the Roadmap and am only on Phase 1! I have listened to the first podcast, read the article and have downloaded the 3, 2, 1, (podcast) series to my iPhone. I made 6.5 pages of notes from that first podcast alone! I shared the course info with my friend in California who then signed up for the Roadmap course too, and we will be forming a group to help support each other.

I felt insecure about the big gap in my resume. I also felt very alone in these feelings. NOW I feel connected and excited about all the possibilities.

Kim McNeil

Relauncher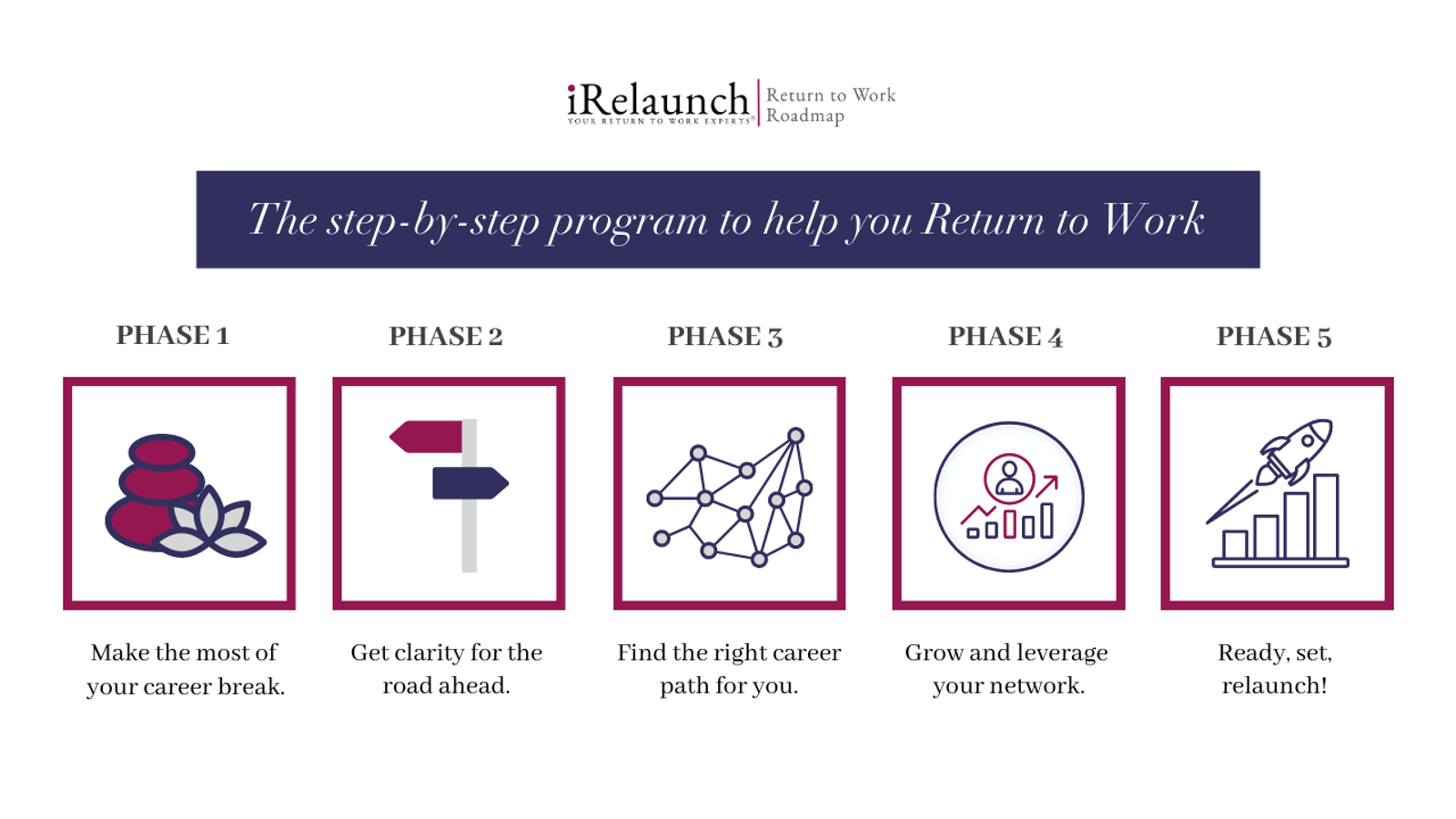 5 Phases
One for every step of your relaunch
Our unique 5 phase approach guides you through every step of the process. From figuring out "what you want to do all over again" to the tactical parts of the job search process customized especially for the relauncher, the iRelaunch Roadmap allows you to determine what steps are best for your unique needs.
Your Roadmap also includes our proprietary Relaunch Readiness Assessment, an invitation to join our private Facebook Group, and hundreds of tips for networking, confidence building and more.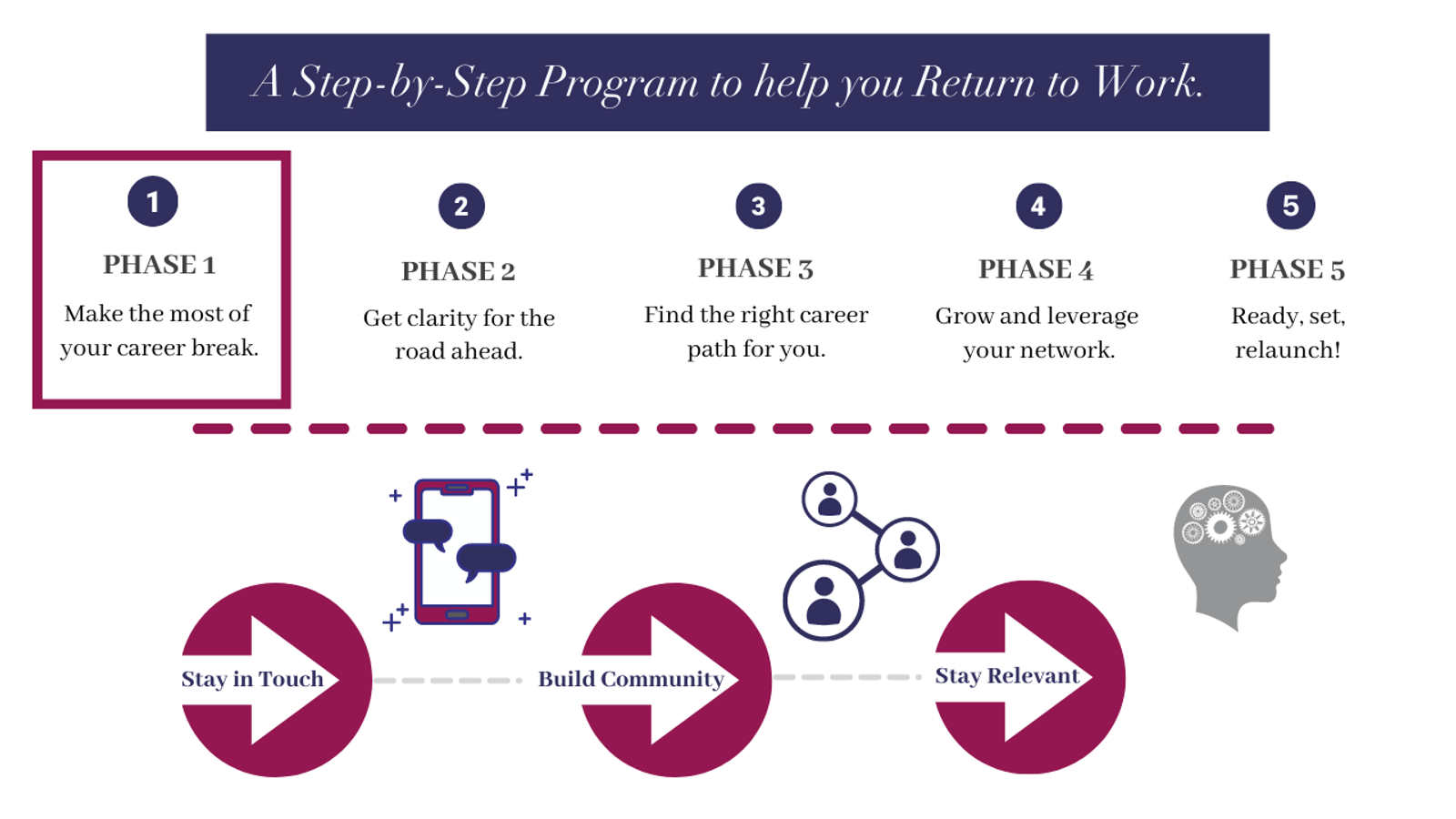 phase 1
Make the most of your break
If you're thinking about returning to work, there are plenty of things you can do while on career break to get you back to and keep you at the top of your game. Phase 1 shows you how to reconnect personally and professionally, maintain momentum with buddies and groups of peers with relaunch goals, especially through the iRelaunch Return to Work Forum and start on your way to becoming a subject matter expert all over again during your career break.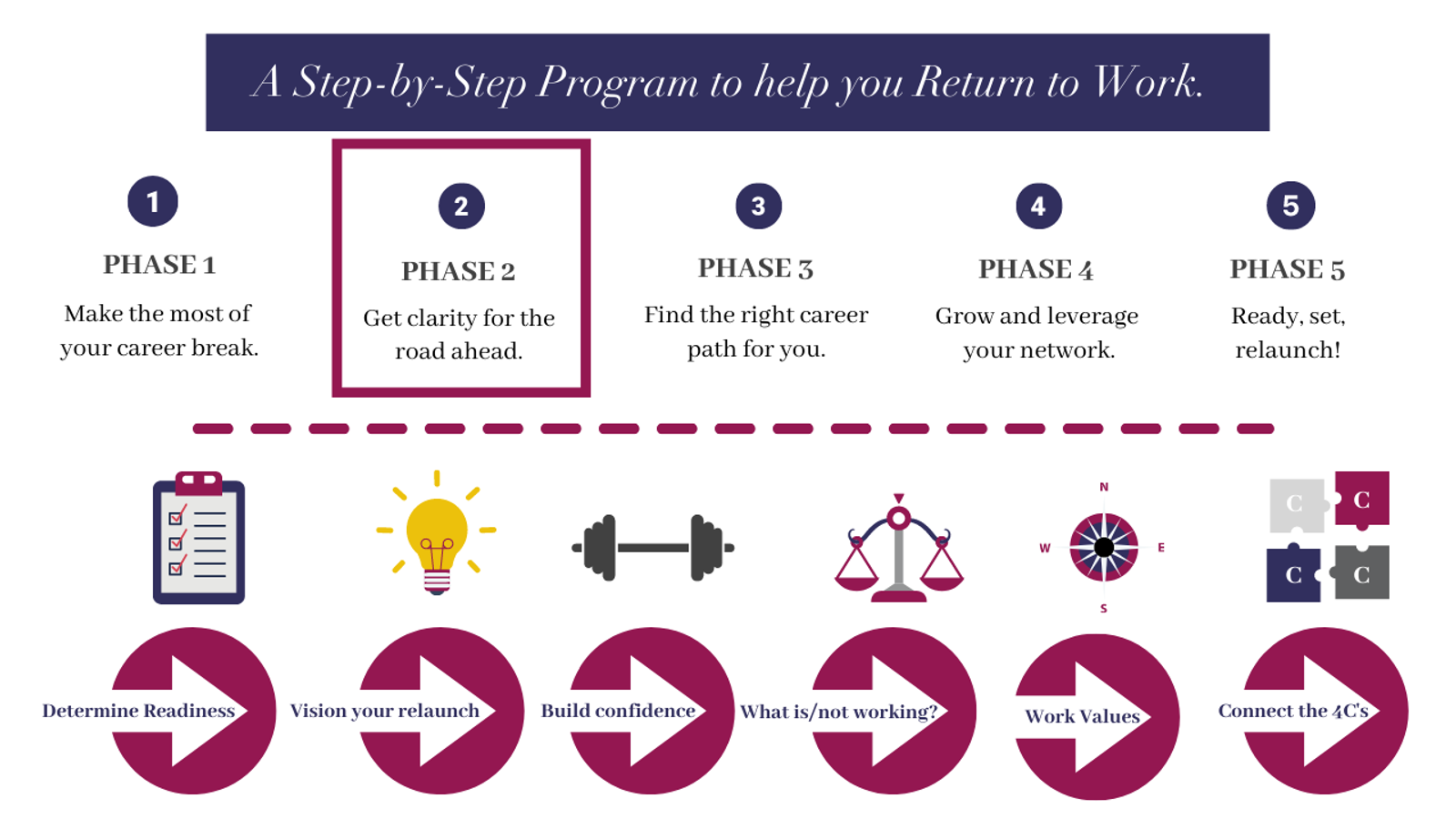 Phase 2
Defining yourself: Clarity for the road ahead
Phase 2 will help you determine your readiness to return to the professional workforce. You'll take stock of what's working and not working in your life while you build your confidence and understand your work values. You'll determine your 4C's of relaunching, part of our custom program for determining the best professional fit for you.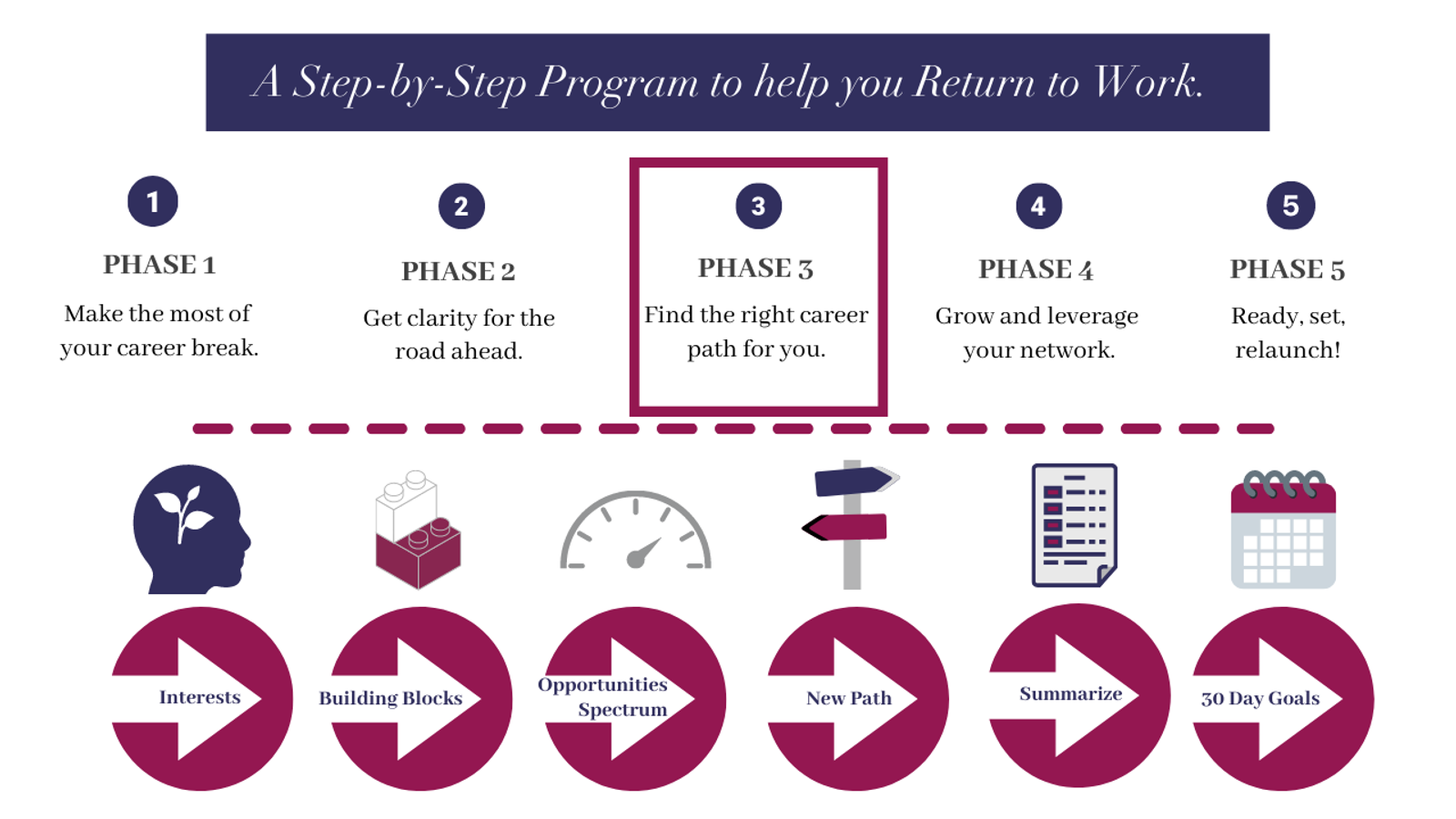 Phase 3
Explore the right job for you
What's the best job for YOU? In this Phase, you'll use the next part of our custom program for determining the best professional fit to map the key functions for your ideal job and build your new career path based on the personal career exploration you completed in previous steps. At the end of this Phase, you'll determine your career exploration goals for the next 30 days.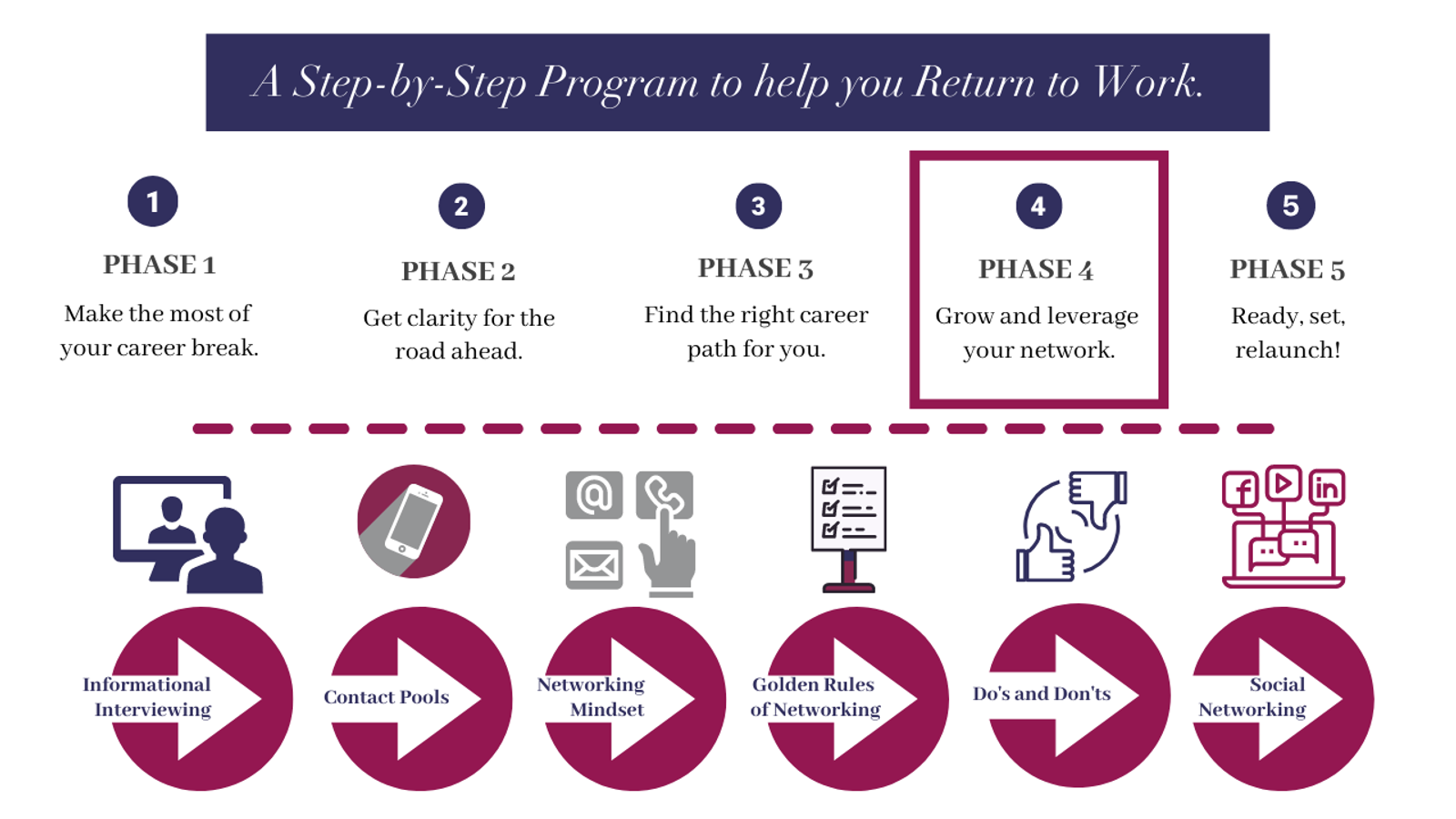 Phase 4
Discover, build and activate your network
Studies show that tried and true networking is still the best way to find a job. In Phase 4 you'll build and activate your contact pools, learn the do's and don'ts of networking, and informational interviews. You'll also discover why LinkedIn is a gift to relaunchers.
Phase 5
Launch your search!
Now you're ready to get into the nuts and bolts of applying for the job and getting the offer! Phase 5 covers using social media to research potential employers, the elevator pitch, cover letters and resumes (including when and how to describe career-break activities) and LinkedIn profiles. We'll share some secrets about tricky interview questions (and how to ace them). We'll also cover salary negotiation.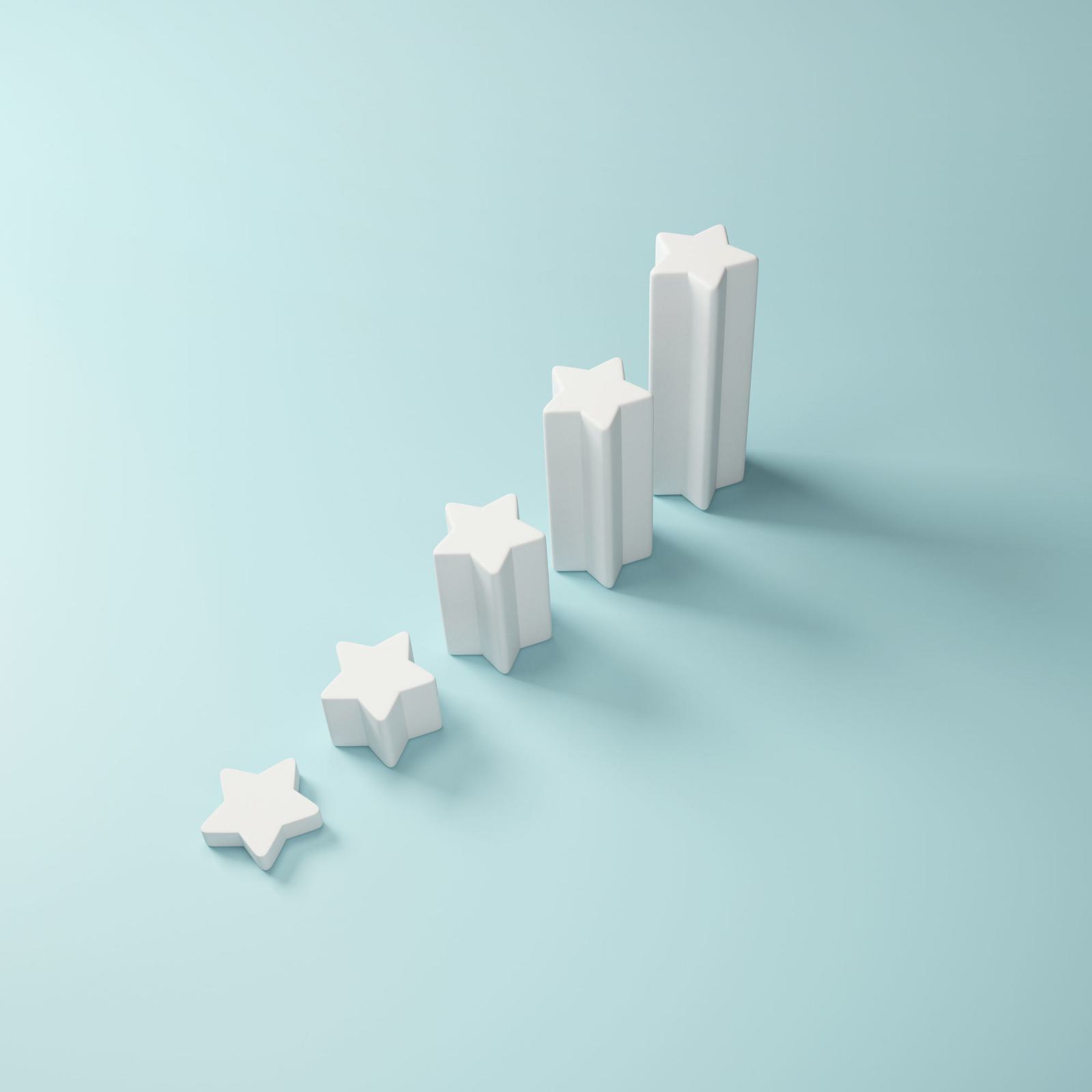 We'll show you the way back to work...
...and give you everything you need to relaunch in an easy to follow, organized framework! Begin and access whenever you're ready - once you purchase, the Roadmap is yours!
Frequently Asked Questions
What is the format of the Roadmap?
You simply log in, and immediately have access to all 5 phases (over 30 steps). Ideally, you would start at Phase 1 Step 1, but it depends on where you are in your relaunch journey. The Roadmap provides flexibility to jump around as needed, as you have access to all the content at once. You can easily leave the Roadmapand come back any time - it is yours to access when the time is right for you. You can also mark each step off as "completed" as you progress.
How long will it take me to complete all phases and steps on the Roadmap?
The self-paced design of the Roadmap allows you to complete the steps according to your schedule. We recommend that you try to complete three Steps each week. With that timing, you should complete the entire course within three months. Of course, you can complete more Steps if you prefer, or you can go straight to the Steps that feel best address your return-to-work needs.
How should I navigate the Roadmap?
We recommend you start by examining each phase of the Roadmap in order. iRelaunch experience has shown that crucial steps are often overlooked when returning to work, including determining the best job for you and steps you can take to improve the likelihood of not just getting an interview ... but getting an offer. The product is built so that you can work through one step at your own pace, and then you click "next" and move onto the next step (and the first step is marked complete). You can always go forward or backward as needed.
But what if I only need certain aspects of the program?
Just like any roadmap, the journey starts with your current location and offers lots of different routes. That's the beauty of the iRelaunch Return to Work Roadmap. Regardless of where you are or what you want to focus on, you'll find it here. Take a moment to look at each phase and the Steps along the way. Then you can tailor the program to meet your current needs.
Can I access it when I'm not online?
While you do need to be on the Internet to access the Roadmap, there are plenty of downloadable worksheets and other materials to use while offline.
What types of materials should I expect in the Roadmap steps?
Each step draws from the following components:
A series of actions to take to complete the step. For example, "listen to this podcast on salary negotiation" or "download and complete the attached contact pools worksheet," or "identify 5 networking contacts you will reach out to this week."
A video guiding you through specific parts of the step. For example, the tools we offer in the Roadmap to help you build a visual map of your ideal next job involve a series of worksheets and feature a video of our CEO guiding you through how to complete them.
Downloadable worksheets that are part of completing that step
Additional downloadable content that are part of completing that step
Links to podcasts, blogs, and articles that we have curated and / or produced ourselves and that are relevant to the goals of that step
Lists of resources to tap into throughout your journey
What should I do if I have further questions?
Please reach out to us and we will be happy to help! Be sure to let us know you're contacting us about the Roadmap so we can quickly get you the information you need!
The phases and steps display the years of work that Carol Fishman Cohen and the iRelaunch team have put into researching this unique career challenge...the Roadmap enables the relauncher to quickly get up to speed with access to a wealth of resources. Allowing the career relauncher to go through this process on-line at his/her own pace and availability is brilliant.

Daniel Taetzsch

Relauncher
Wondering about the Return to Roadmap for your alumni or professional organization?
Help get your constituents back to a rewarding career
Learn more about what the Return to Work Roadmap can do for your members!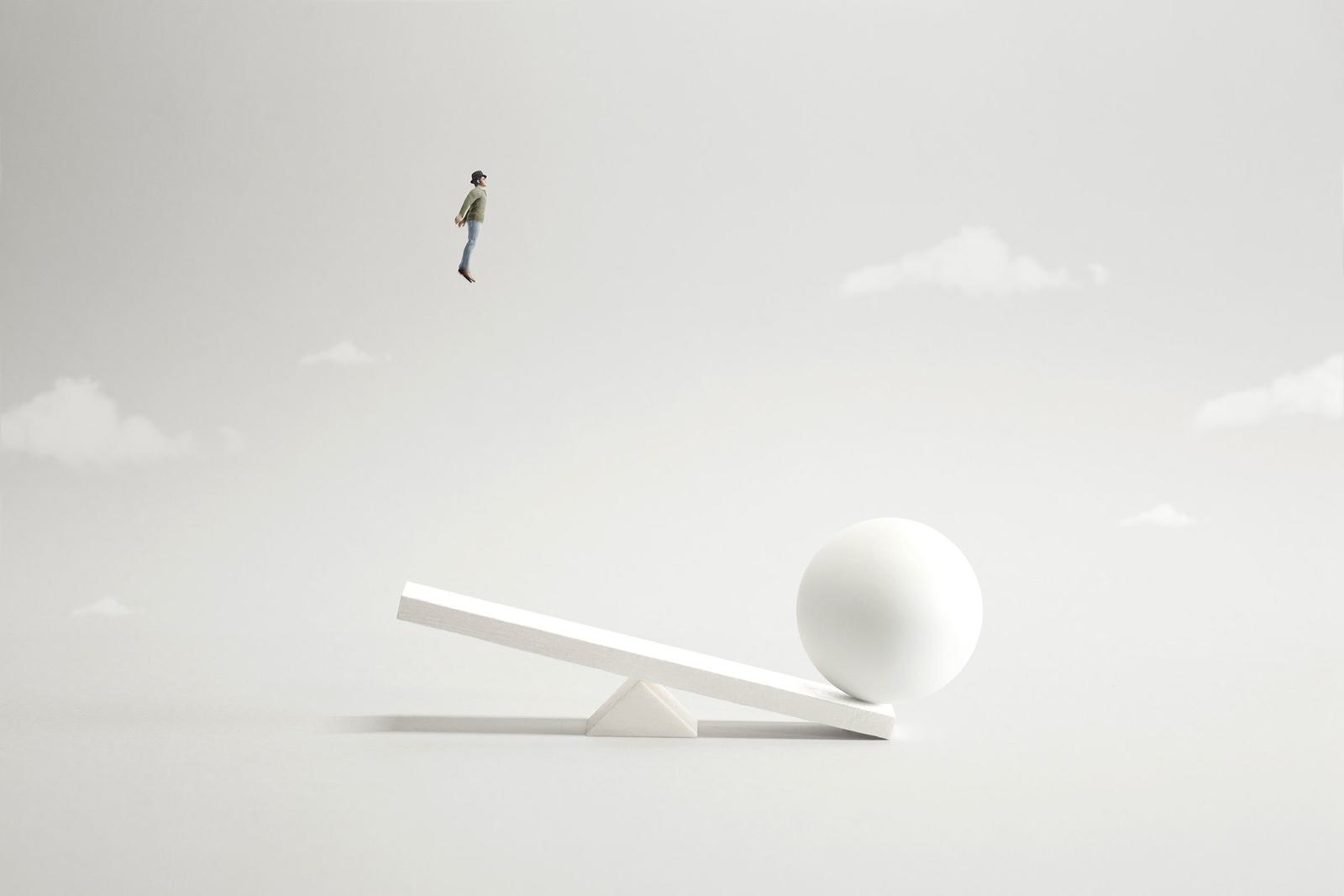 It's your turn...
No matter what the reason for your break, it's your turn to find a fulfilling and enjoyable career.