Tune in at 8:30 AM ET on Thursday, October 20th to hear Carol Fishman Cohen deliver the opening keynote during Richmond SHRM's 13th Annual Strategic Leadership Conference at the Gottwald Center in Richmond, Virginia.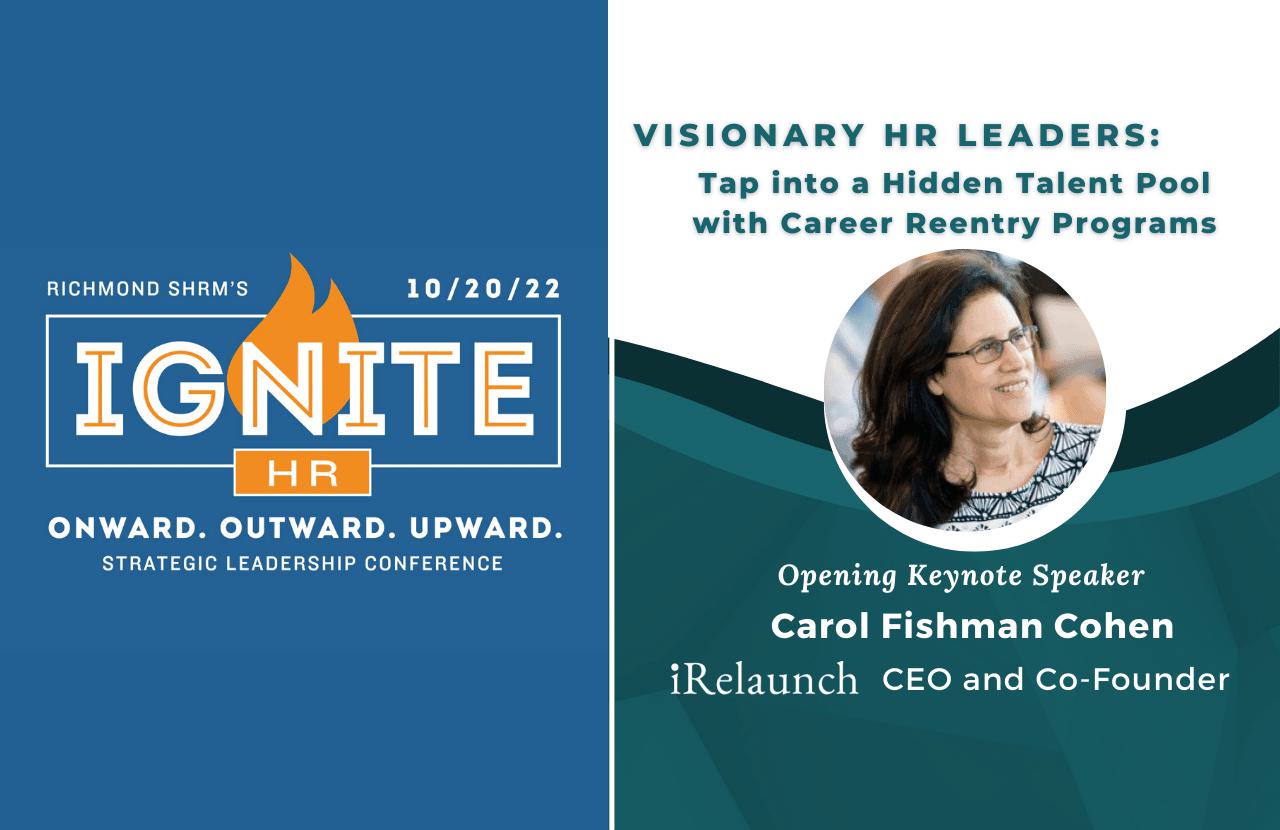 About Carol's Keynote Session
Visionary HR Leaders: Tap into a Hidden Talent Pool with Career Reentry Programs
During this session, Carol Fishman Cohen, CEO and Co-founder of iRelaunch, will discuss why now is an excellent time for forward-thinking HR leaders to propose launching an in-house career reentry program, and the key steps required. Career reentry programs enable employers to tap into the hidden and high caliber pool of mid-career professionals returning to work after multi-year career breaks. iRelaunch refers to this experienced population as "relaunchers." This talent pool is primarily female, and consists of those who have taken career breaks for a range of reasons unrelated to their work performance; childcare, eldercare, pursuing a personal interest, time as a military spouse, "trailing" spouse or partner living as an ex-pat, time taken after military service, extended travel, or "un-retiring." Tactical, practical and emphasizing the latest innovations and best practices, this is a rare opportunity to learn directly from the global expert on career reentry programming.
You'll learn about:
Why leading your employer's career reentry program pilot can be the ultimate opportunity for you to impact lives and gain visibility from senior management
The business case for an employer career reentry program
Relaunchers and the value they bring to employers
Why career reentry programs should be viewed as professional development programs for managers and for the returning professional participants
The conference offers a full day of compelling speakers, networking, and both SHRM and HRCI recertification credit opportunities – especially those hard to obtain business credits. Richmond SHRM pride themselves on bringing speakers to you who are true thought leaders including national keynote speakers.


Participation is available either In-Person or On-Demand, there will be no live stream the day of the Conference. For those unable to join In-Person, be sure to register for an On-Demand ticket to access the recording after the event. The Conference recordings will be made available for a limited time only for event registrants.