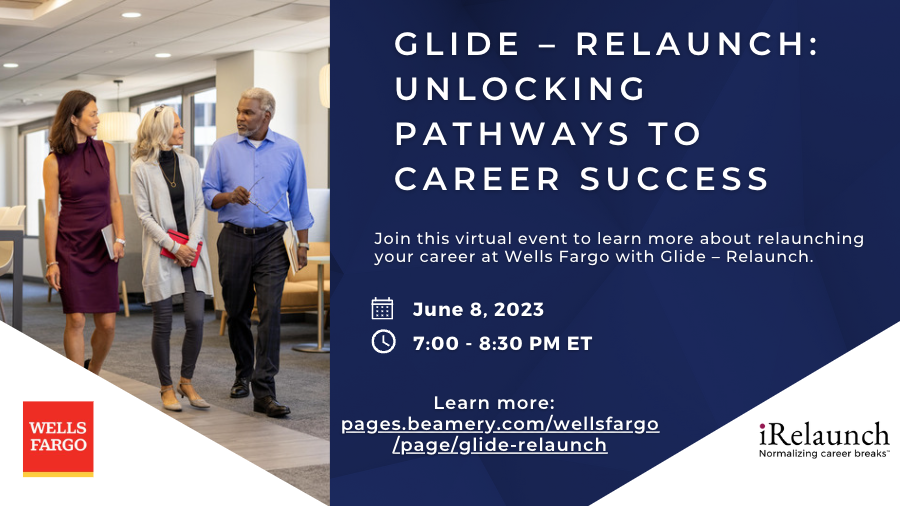 Join Wells Fargo for this special webinar: Unlocking Pathways to Career Success. This event will cover information about Glide – Relaunch, Wells Fargo's return-to-work program for U.S.-based professionals looking to return to the workforce after taking a current 2-year minimum career break.
Hear program details from the Wells Fargo Glide – Relaunch team, learn 'relauncher' tips from guest speaker and iRelaunch CEO, Carol Fishman Cohen, gain valuable insight into the returnship experience from successful Glide – Relaunch alumni, and learn how to apply for the Fall cohort opportunities!
Event date
Thursday, June 8, 2023
Event time
7:00 p.m. - 8:30 p.m. Eastern Time
6:00 p.m. - 7:30 p.m. Central Time
5:00 p.m. - 6:30 p.m. Mountain Time
4:00 p.m. - 5:30 p.m. Pacific Time

Registration
Please click the Register Here button above. You will be brought to the Wells Fargo registration link where you will enter your email address and then will be asked to answer some additional questions.
*Only those who complete the online registration will receive instructions on how to join the meeting. Please note the email invitation is unique to you and should not be forwarded.

Questions
There will be no live Q&A during the event. Questions may be submitted in advance when completing the online registration form.
For questions related to the registration process, please email Wells Fargo Meeting & Events.