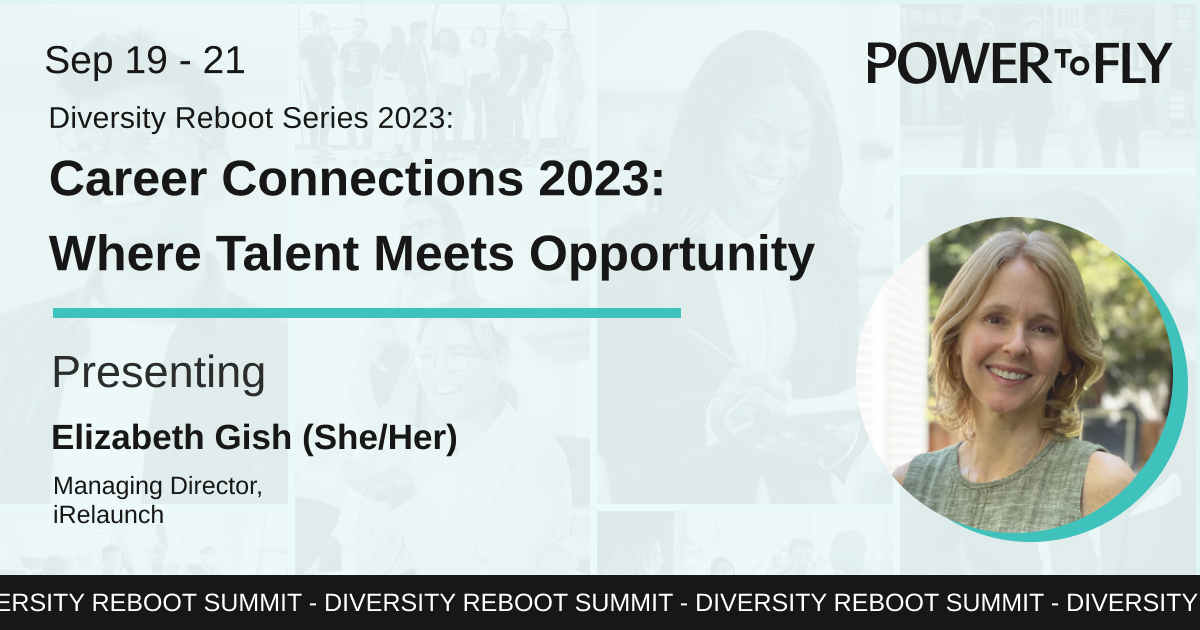 "Empowering Reinvention and Growth: Career Pivots After a Break"
September 20, 2023
1:00 pm - 1:30 pm EDT
Join iRelaunch's Managing Director, Elizabeth Gish, for an enriching session that will help you reflect on your passions, redefine goals, and uncover new pathways aligned with your aspirations. Whether you paused your career for caregiving, eldercare, health issues, military service or personal exploration, this event will provide strategies and perspectives to help you gain the confidence and tools necessary to navigate reentry into the workforce.
This event celebrates the notion that breaks in one's career journey are not setbacks but powerful opportunities for growth, transformation, and ultimately, a more fulfilling professional life.

"Empowering Reinvention and Growth: Career Pivots After a Break" is part PowerToFly's three-day dynamic event:

"Career Connections 2023: Where Talent Meets Opportunity"
September 19-21, 2023
Whether you are a recent graduate, a seasoned professional looking for a change, or someone seeking to explore new career paths, Career Connections 2023 is your gateway to unlocking exciting opportunities. Throughout the event, you will have the chance to engage in interactive workshops, attend insightful panel discussions, and network with professionals who share your passions and ambitions.
The carefully curated program will feature a diverse range of industries, including technology, finance, healthcare, creative arts, and more, ensuring that there is something for everyone.
Key highlights of Career Connections 2023:
Networking Opportunities: Connect with industry experts, recruiters, and like-minded professionals who can offer valuable insights, guidance, and potential career prospects.
Panel Discussions: Gain insider knowledge through engaging panel discussions featuring industry leaders sharing their experiences, trends, and tips for success in their respective fields.
Skill-Building Workshops: Participate in interactive workshops led by experts, designed to enhance your professional skills, provide career guidance, and equip you with the tools necessary to excel in your chosen path.
Job Fair: Meeting companies that are hiring at all experience levels and for in-person and remote opportunities.